This beautiful antique hand blown dish was my mother's favourite piece but she never had it out on display since she was 'worried' something would happen to it. and it didn't 'match' anything in our décor.  I always found that sad because I knew how much she loved it.  If you have a special 'something', find a way to incorporate it into your home for your own pleasure.  Here is just one example of how to incorporate the old with the new, but the possibilities are endless!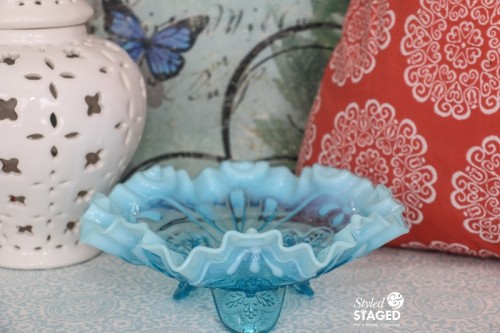 I love having a family antique heirloom with a long history to it – the key is to enjoy it by adding other items to create a new story.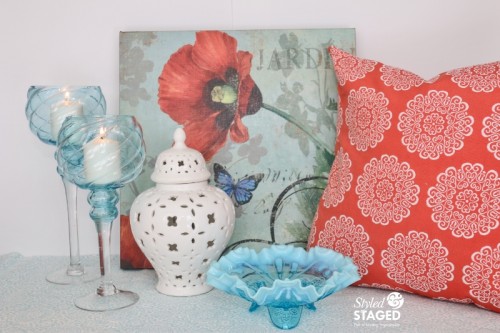 It's so easy to add other accessories to complement this turquoise dish.  The artwork pulled all the colours together. Without it, I might not have put these colours together. The turquoise glass candle holders are new but they look perfect with the dish. It's hard to tell what is new and what is old.  Adding the textured coral cushion helped keep the look fresh and current. The white vase brought out the white in the cushion and added more texture for interest. Together everything looks great.  .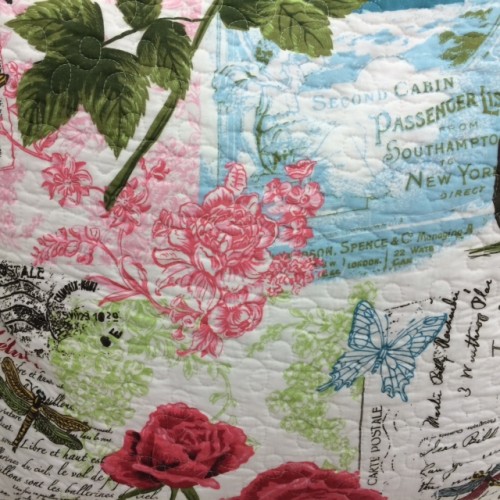 As I was out shopping for a client, I was so surprised to see this quilt set. It had all the same colours and 'feel' in my previous vignette. I just had to take a photo to show you.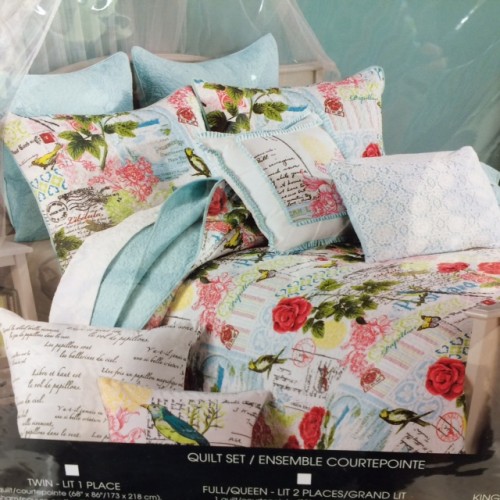 This bed-in-a-bag by Cynthia Rowley combined the same colour scheme with lots of texture.  I can really see this in a country home or cottage.  It's also ideal for the romantic at heart.
I currently showcase this dish in a very calm and serene bedroom with an ocean feel including several tones of turquoise, lot of white and  different shades of tan.  The turquoise is my accent colour. The edge of the dish looks like waves lapping up against the shore. Together it's a subtle reminder of the beach.