Now that the colder weather is approaching the fireplace is going to become more of a focal point and selling feature of any house!
Remember one of the most important reasons to stage a house is to make the MLS pictures look good so you can attract more traffic.  A great looking fireplace says…..'home'
In this 'BEFORE' picture the fireplace mantle looks washed out and the brick looks too busy.  The colour in the brick is very limiting to future homeowners and there is too much of a contrast with the white mantle.  The stripes on the couch really clash with the stripes in the brick so it's distracting.  The homeowners never like the fireplace but were afraid to paint it.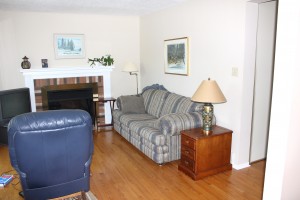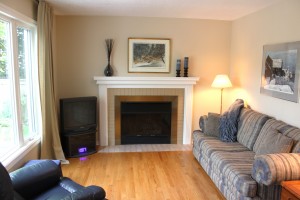 Simply giving the few bricks a coat of Quick Start Primer and then a coat of paint this fireplace now looks so much more inviting and neutral for buyers.  Always ask the paint experts for manufacturer's instructions.  You want to make sure you use the correct type of paint!  I pulled the colour (Wild Mushroom) from the existing tile on the floor and the adjoining kitchen back-splash tile since those are things that are staying with the house.  Adding some soft drapes in the same colour neutralized the stripe couch and complimented the new fireplace.  Moving some of the homeowner's artwork around helped ground the room.  Larger artwork works better over the mantle and couch.  Adding chunky accessories give it balance and the 'style' factor.  Believe it or not the walls were NOT painted.  They just looked richer in colour with the coziness and reflection from the drapes and the calmness of the fireplace.  The homeowners were so cooperative and eager to do everything.  They wished they had done this quick, inexpensive and easy modification years ago!!!