After a week of de-cluttering, moving furniture, removing wallpaper, painting, and removing carpet this house is now ready to hit the market for a quick sale at top dollar!  To keep costs down I used all the homeowner's furniture.  Bringing in my inventory of accessories was the icing on the cake.  Thanks to my amazing painters who were a huge help.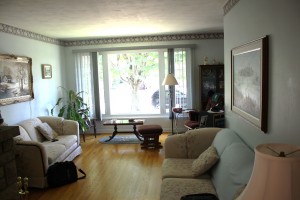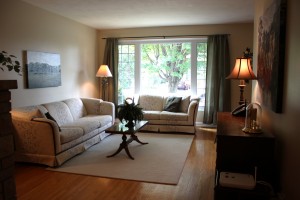 Removing the wallpaper border and painting the walls a neutral tan make the room appear larger and cleaner.  Replacing the blinds with soft drapes give a quick update.  Moving the homeowner's furniture around creates a better traffic flow.  Adding the area rug expands the space and adds more texture.   Bringing in rental props (artwork, greenery and toss cushions) give an instant update.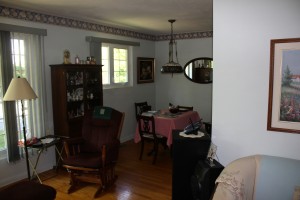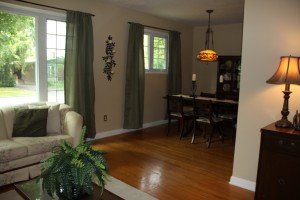 Removing a lot extra furniture allows you to see the beautiful floors.  Adding the drapes in the dining room expand the room and it makes it feel so much more elegant.  Moving the tall hutch to the far wall opens up the room and creates a nice focal point at the end of the  room.  Adding the leaves to the dining table shows buyers that a large table can fit.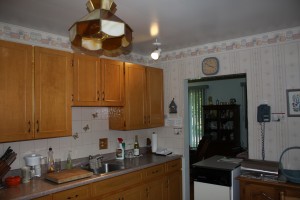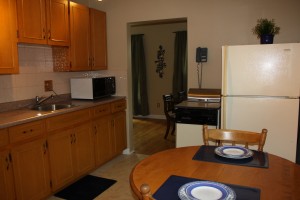 Removing all the wallpaper and continuing the same tan colour gives an instant update.  Buyers don't want to have to remove wallpaper when they buy a house.  Do the work for them and take their excuses of why they don't want to buy away.  Replacing the cracked Tiffany ceiling lamp with sleek track lighting not only provides better lighting and makes the room more neutral.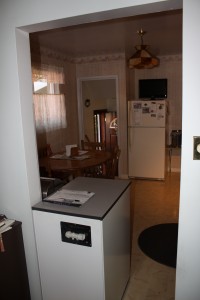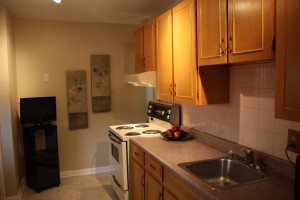 Moving the fridge to the other side of the kitchen open up the entrance and makes it more functional.  Adding artwork with the colours that compliment the adjoining rooms create a cohesiveness flow.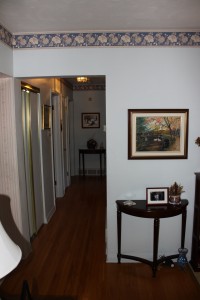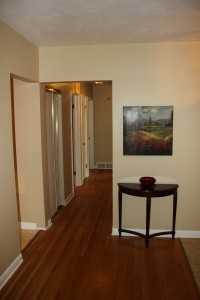 Removing the border and giving walls a fresh coat of tan paint brightens up the hallway.  Painting the doors and baseboards white break up the length.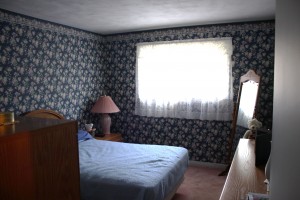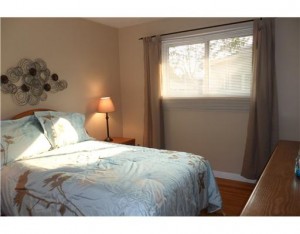 Removing the wallpaper was the first task at hand!  Then it was to remove the soiled pink carpet to expose the beautiful wood floor beneath.  Bringing in new linens, drapes, lamps and accessories gives an immediate update. I can't believe this is the same room!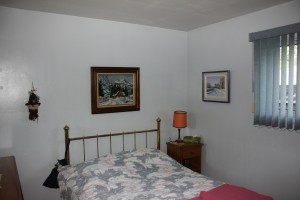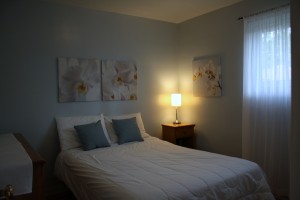 This room was not painted.  Adding white made the room look more blue.  Bringing in artwork, bed linens, lamp completely updated the room.  Replacing the dated blinds with fresh white drapes make the room appear taller and larger.  Removing the dated brass headboard also give a sleek contemporary look.