Often homeowners have the right foundation for a great home but they just need a few accessories to pull everything together for a polished look.  When selling your home the MLS pictures have to look amazing!  Right now the market is flooded with houses so your house has to stand out compared to all the other comparables.  Styled & Staged has a huge inventory of rentals and this is an expample how we can help.
This open concept town home is very typical in Ottawa.  It's so important that every inch is utilized to it's fullest potential and the colours flow from one area to the other.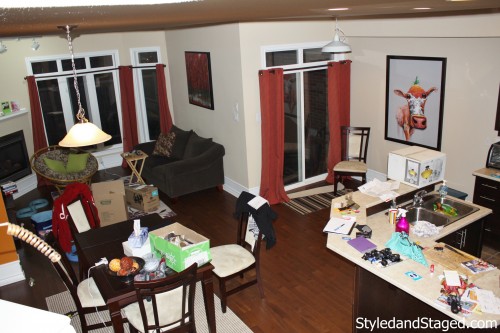 When you can see everything at once it's so important for it be clutter free and unified so it's not distracting.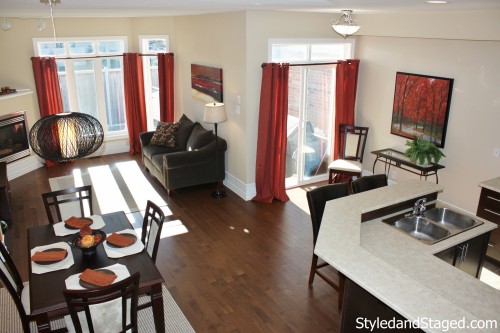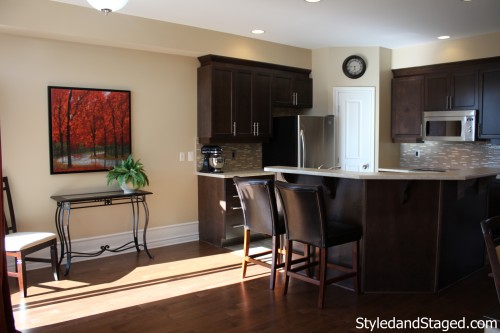 This space was confusing at at first.  I couldn't imagine putting another table in this breakfast nook even though that is was it was designed for. I hate having two tables beside each other.  I feel like I'm in a restuarant and can't decide where to sit 🙂   Bringing in bar stools showed buyers that there was in fact a counter for casual eating or cocktails.  Bringing in the side table showed buyers that this wall was large enough for a little desk or dining buffet since it's so close to the dining table.  Creating the little vignette with the artwork and plant also adds interest.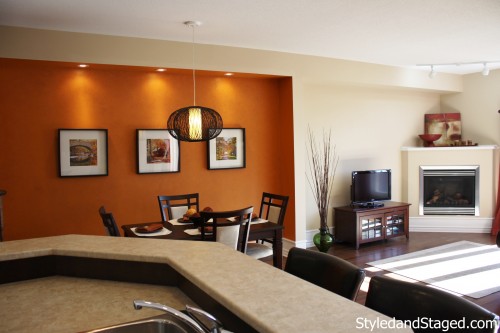 There are so many beautiful views in this room.  Pops of colour carry your eye all round the room without any distractions.  This makes the space feel larger.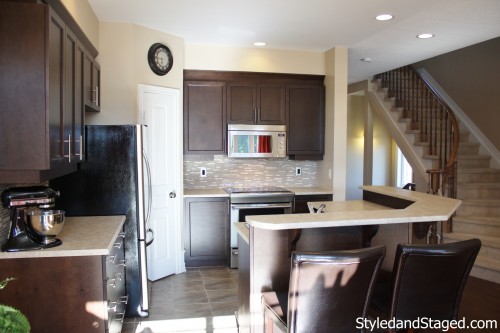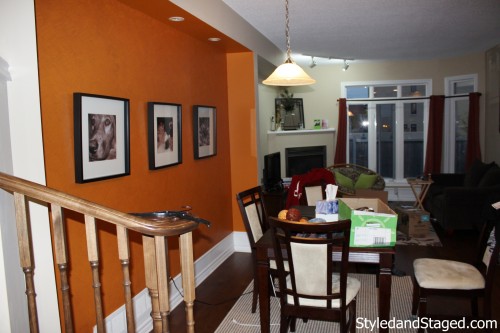 The dining light fixture was too small and it certainly didn't give the room any drama.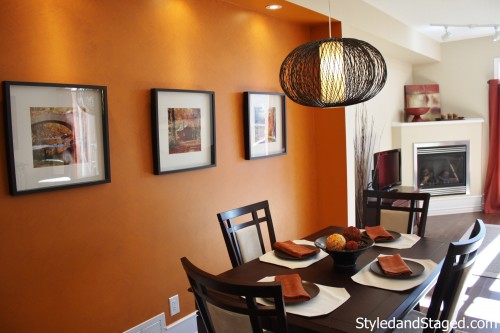 Since the space already had the bold colours and texture, I thought this chandelier was perfect.  It makes a statement and that is what you want when selling your house.  This is from Rona for only $80.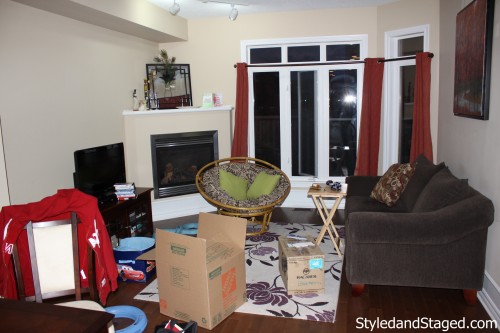 Replacing the area rug was the first recommendation to keep the space feeling larger.  Making the fireplace the focal point was also very important since that is what is staying with the house.  Always use oversize accessories for more impact.
DIY –  PROJECT
I love it when the homeowers are creative, resourceful and artistic!!!  Having family pictures of your children or pets are great when it's your house but for the purpose of resale it's better to replace the photos with other art.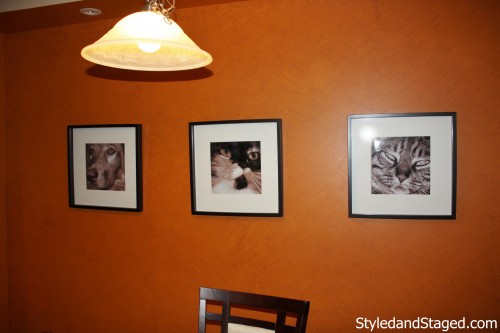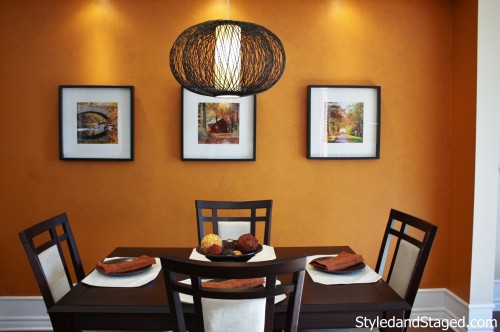 The homeowner downloaded artwork off the Internet and had copies made at Costco.  She chose artwork that complimented her warm burnt orange feature wall.  The choice of artwork also is also inspired by the Autumn season that we are now entering. This is a simple project that anyone can do for their own seasonal changes.