A New Home Office – Guest Room Combo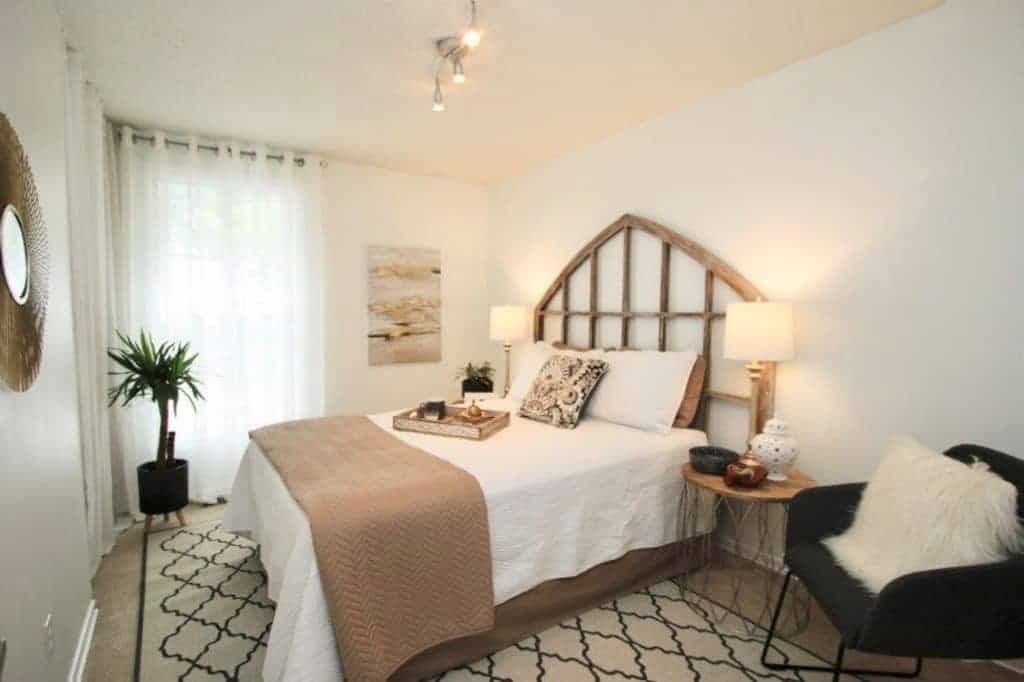 Like so many other people, I have had to pivot my business due to COVID.
My office is no longer in my car, or at my client's homes or my warehouse. I needed to not only revamp my business model but also my workplace.
It quickly became apparent that I needed a more productive and efficient home office for my videos, webinars, zoom calls, online consultations and recordings.
Time To Pivot
When I work with colours all day, it's important for me to have a white background to keep my headspace calm and creative. I don't want to be distracted.
However, I still wanted to keep part of the room for guests even though it's not being used right now. My struggle was combining the two spaces that were both functional and yet had items that were soothing and special for me. I wanted to create a space that made me feel relaxed as well as creative at the same time.
Inspiration
I was just missing my source of inspiration to get started…and then the magic happened 🙂

While scrolling through Facebook Marketplace I came across this antique cathedral window from an old church in Quebec and I knew I HAD to have it. It was the most impulsive purchases I've ever made and I questioned my sanity a few times. I had a vision but had no idea if I could make it happen. Just getting it home was a challenge since it was too big for our van.
Labour of Love
I love it when there is a story behind a piece. For some reason it just 'spoke' to me. I immediately imagined it as a headboard, but I also felt that it could be a good branding tool for me since it was the house shape of a house.
Before I bought it, I did a lead paint test on it twice to make sure it was lead free. Fortunately the results were negative!!! Yahoo! I strongly suggest you do this test on any old pieces. Lead paint was only banned in 1978! It will be the best $15 you'll spend.
This has been a true labour of love for me to strip all the layers of paint and varnish, and then sand out the really rough edges. It was actually a fascinating experience to go through.
The final step was to just brush a little bit of my white wall paint mixed in with some water (it's very thin) and then I wiped off the excess to soften the wood colour. I didn't want it to look perfect or lose any of it's character. Seeing the natural grain made me so happy.
Guest Room
As I said, earlier, I still wanted to have a beautiful area for guests to stay.
Welcome to my restful retreat.
Combining the soft textures in the textiles, and rustic textures in the accessories keep the room interesting even though there is very little 'colour'. Plants add good energy and life as well. When you walk in, you just want to touch everything.
DIY
There are several little DIY projects in the room like my spray painted lamps. I always try to up-cycle as much as I can. Why buy new, when you can reuse? The soft gold adds a refined touch.
I wanted the lamps to be tall but subtle so they wouldn't distract from the headboard. The round wood and metal tables aren't overly large so I didn't want a big base to take up the whole surface. Personal items on the tables makes the room unique. When I have guests, I always have a basket of toilettries, creams, towels and fresh water to make them feel welcome. Even adding a tray for them to use is nice touch.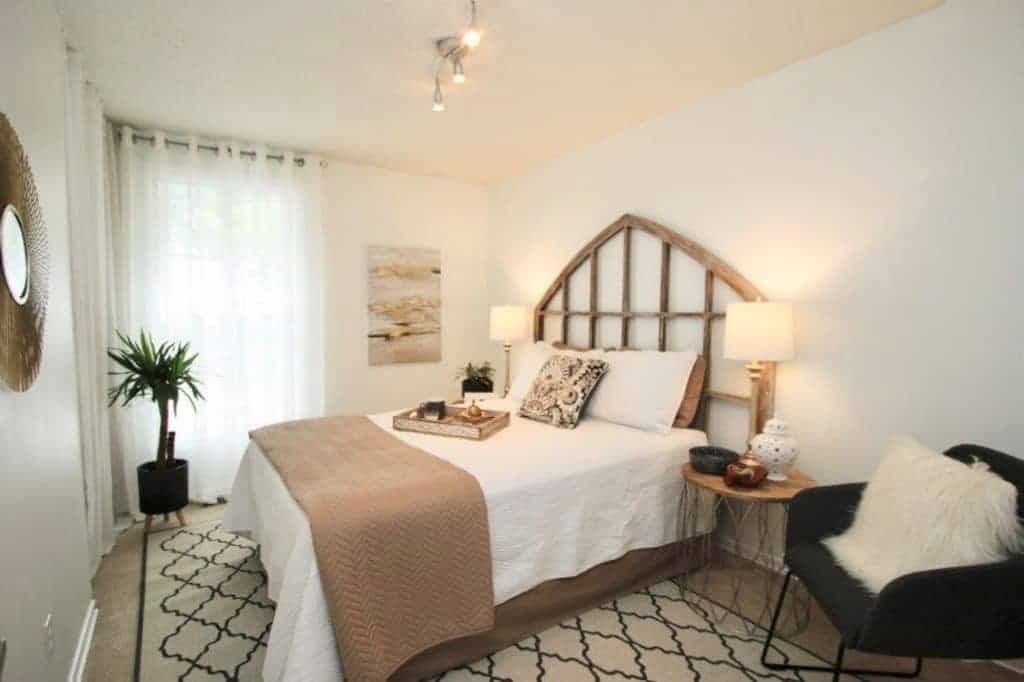 This is how the room looks as a guest room. I needed to remove the one night table for my desk but I think it still works fine.
Functional Home Office
Having a white surface for my desk was important as well as having enough space for two monitors, my microphone, the webcam and my ring light. I have everything I need for working online at home.
Solution To My Problem
I used to have my ring light on a floor tripod but it meant that my desk had to come halfway into the room for the legs to spread out. Just by using what I had at home, I was able to create a solution by covering a cinderblock with shelf paper and then attaching the ring light to a cell phone tripod stand. The brick keeps it sturdy and tall enough so the monitors don't block the light once they are in front of it. The the shelf paper is rubber so it prevents the tripod from slipping. The final touch was my microphone and webcam. It's all the little conveniences that take the struggle out of your day. My white desk is actually an IKEA dining table. It was cheaper than a new desk and I liked how deep it was. Most desks don't have enough depth for so many monitors as well as work space.
Having a light background is ideal when you do your webinars or any videos. Everything in the room was done with a purpose and everything is special to me. Right down to my scented candles and pretty desk accessories.
It's been a challenge to make the changes after Staging for the last two decades, but I'm very proud of how I've been able to turn it around it. Not only has it meant completely changing my business plan, but also learning all the new technology. I promise to continue giving you my excellent service. It will just be done in a different way. I'm always available to answer your questions.
I'm very excited to be able to showcase all my expertise and experience in this next chapter.