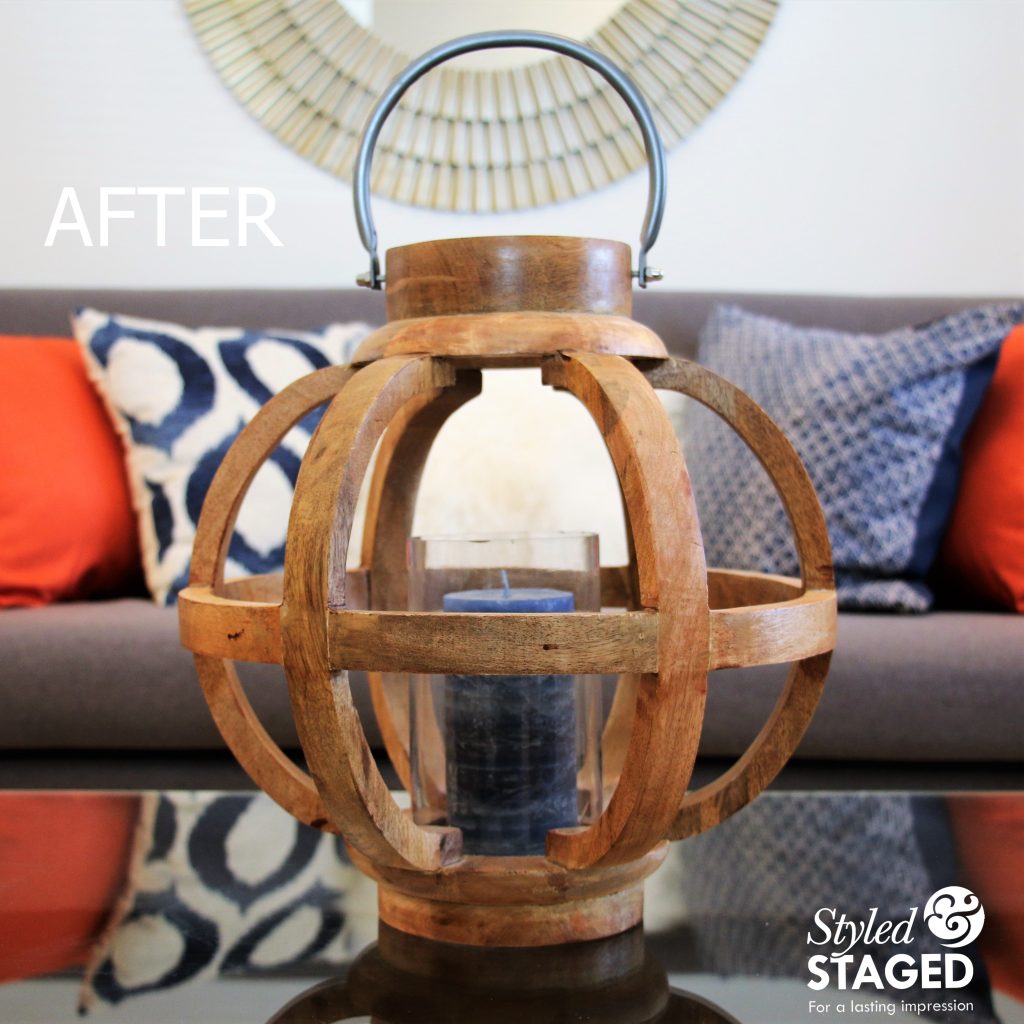 I had so much fun Staging this empty house that was built in 1920. After several months of renovations, I was left with a clean blank canvas to turn it into a home. There is so much charm and character in these older homes and I want to showcase every detail.
My colour inspiration was the exterior red brick and the blue door. Ideally, it's nice when there is a flow from the exterior to the interior.  It tells more of a 'story'.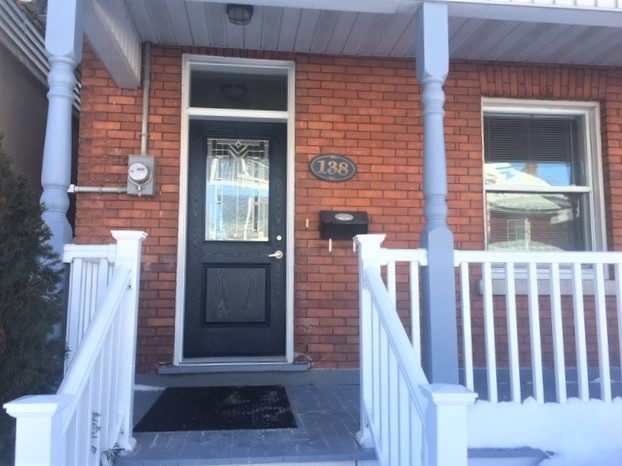 After spending a few hours in the empty house taking measurements and coming up with a plan, I headed off to the furniture rental store. Since it's the busiest season, I had to make some compromises for my selections but I think I was able to pull it together with my own accessories. Juggling inventory is always the biggest challenge since it changes daily so I need to be flexible and come up with solutions quickly.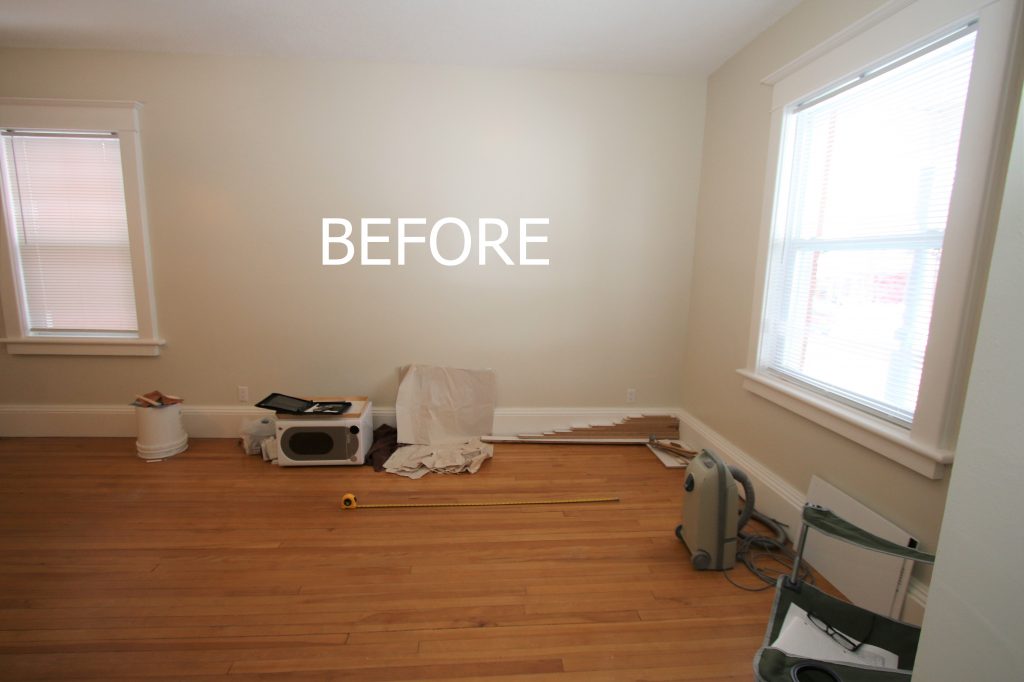 This in a hip and trendy urban neighbourhood, so I had to Stage it to appeal to buyers who enjoyed casual and relaxed entertaining/living. I went with just a 'Hint of Bohemian' to keep the integrity and charm of the house.  People who live in this area love to walk to the cafes, yoga studios and markets. There is a real sense of community.  All the houses have front porches and there are lots of children playing in the streets.
Make an Entrance: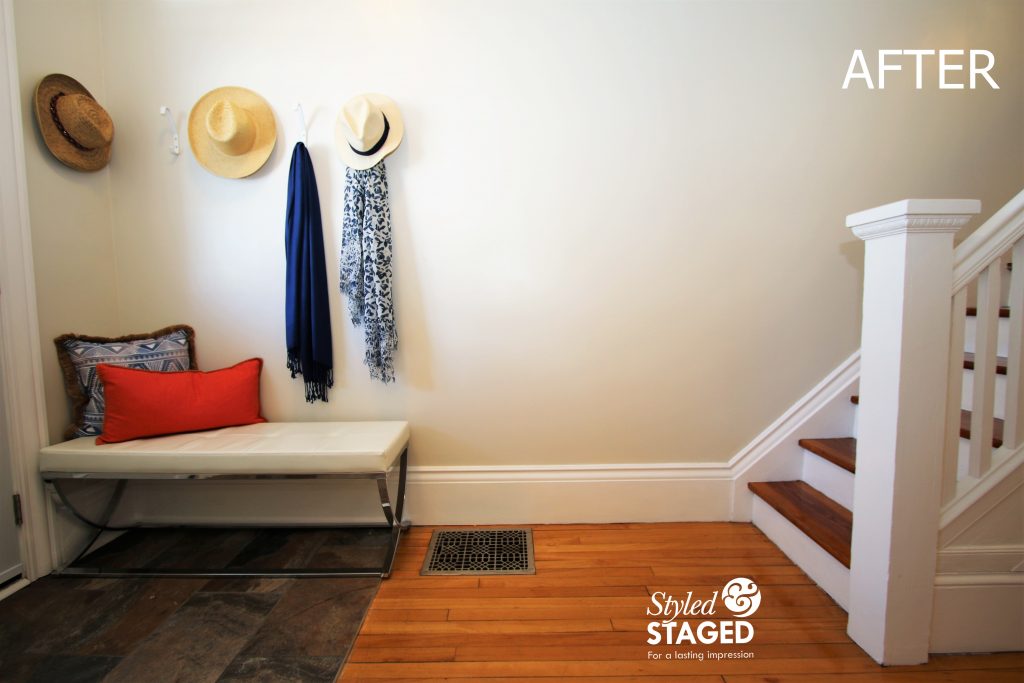 The straw hats and colourful scarves set the tone as soon as you enter the house.  Adding a few whimsical elements make a home memorable.  Since there isn't a coat closet I wanted to make the coat hooks look appealing.  Incorporating a bench makes the space very functional and gave me another place to add texture and colour.  The slate tile has blue and orange undertones as well so everything is pulled together. Always incorporate the 'fixed' elements in your décor.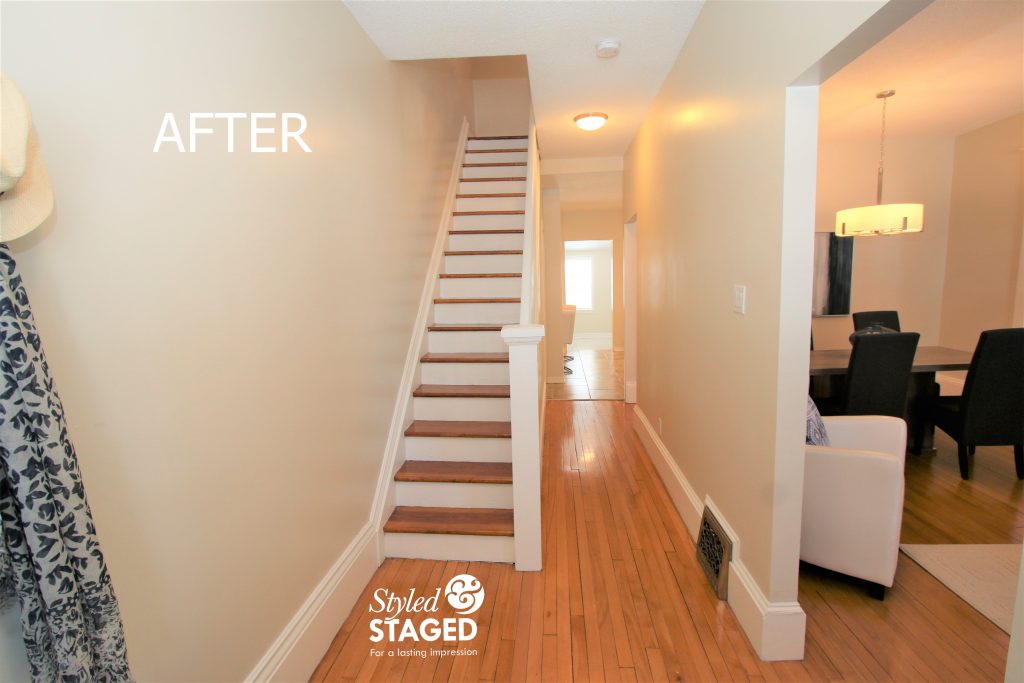 Notice the really thick baseboards and the stunning staircase. Originally, I brought in a lovely runner for the hallway, but as soon as I rolled it out, it immediately created a line down the centre of the house.  This really chopped up the flow. The floors are so beautiful, so I didn't want to cover them either.  Hanging artwork on this wall would have made the hall feel too narrow. I want your eye to move from the far left of the house to the far right so it feels wider.
The Magic of Furniture: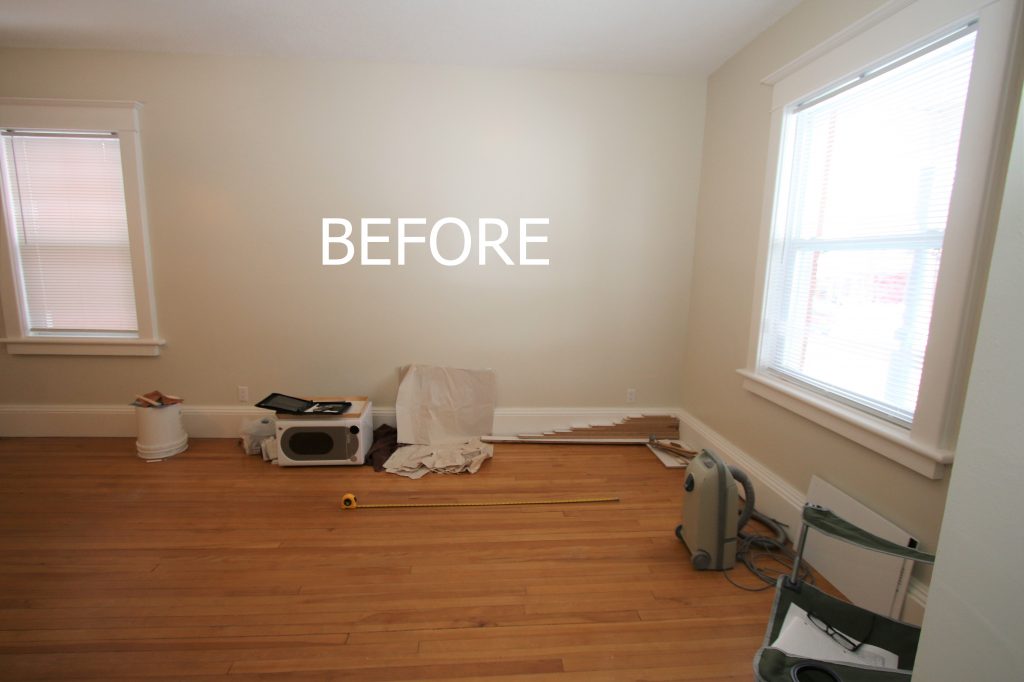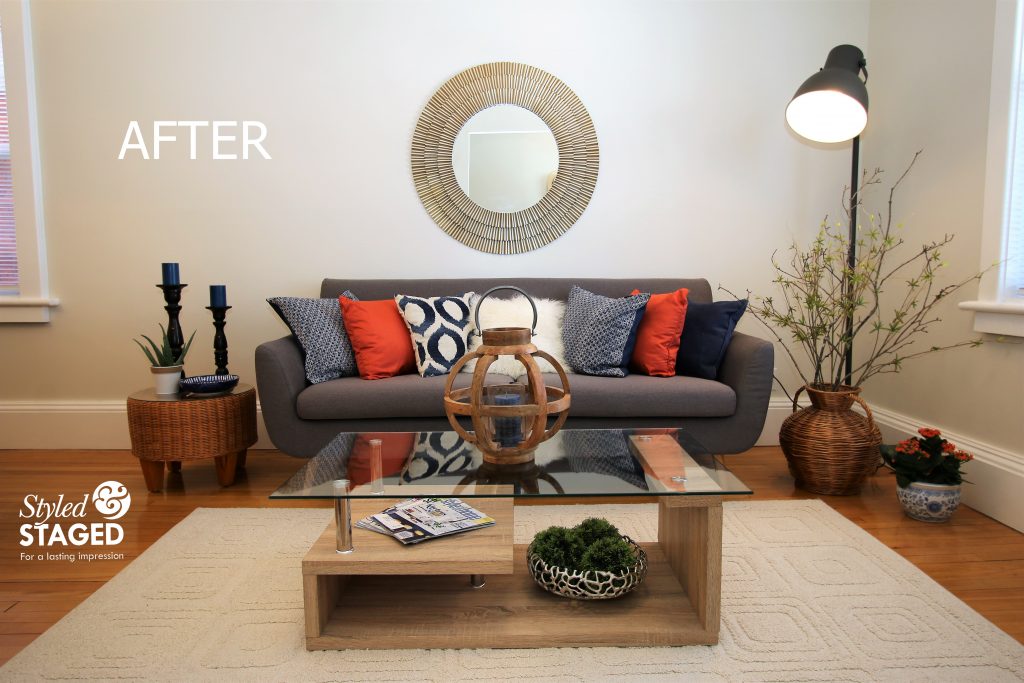 Adding furniture always makes a room feel larger and buyers can see how they would use the room. Contemporary Bohemian décor is all about combining eclectic elements together.  I normally focus on symmetry and balance so this really stretched my way of thinking and I learned a lot about myself.  It was time to break some design rules. Instead of removing layers, I had to keep adding layers to make it feel right.  To make this look work I incorporated:
weathered wood furniture (at least the closest that the furniture rental store had)
rattan baskets for texture
organic elements and different metals
live succulents, branches and greenery
vintage ceramic pots
a variety of textured accent cushions
area rug on hard wood floors
wooden candle sticks and a wooden Indian lantern
wall tapestry
lots of indigo blue accents throughout the main floor
Create A Mood: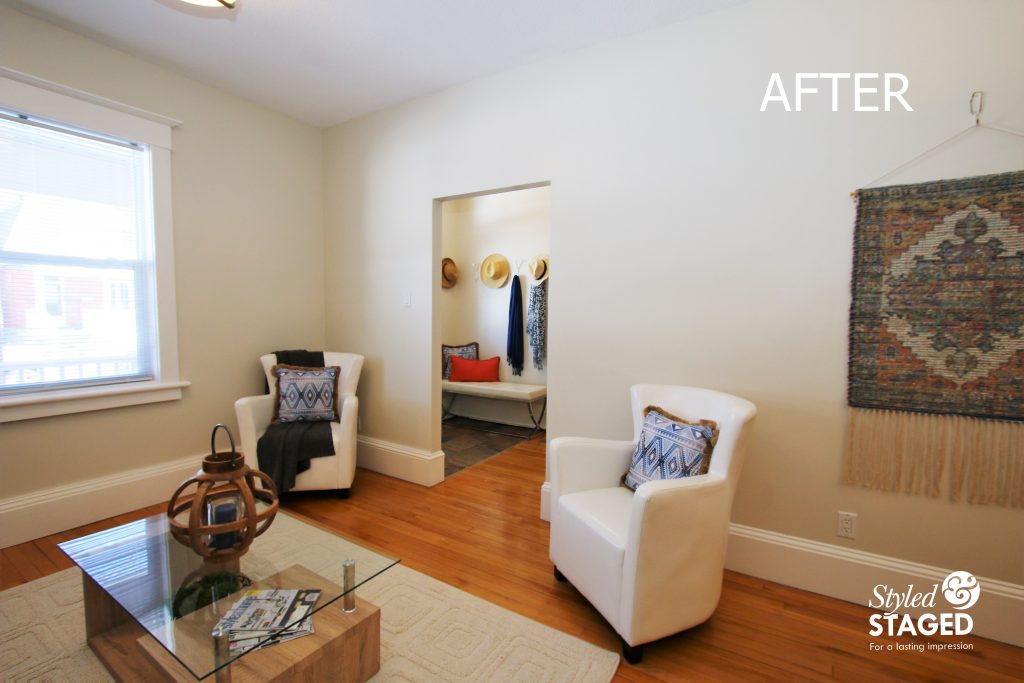 The wall tapestry really helps create the Bohemian vibe.  It completely transported me back to my childhood in the 60's & 70's. No design style is ever really new, it's just gets reinvented with a different twist!!!
Always be mindful of your sight lines when placing items.  Notice how nice the hall vignette looks through the doorway..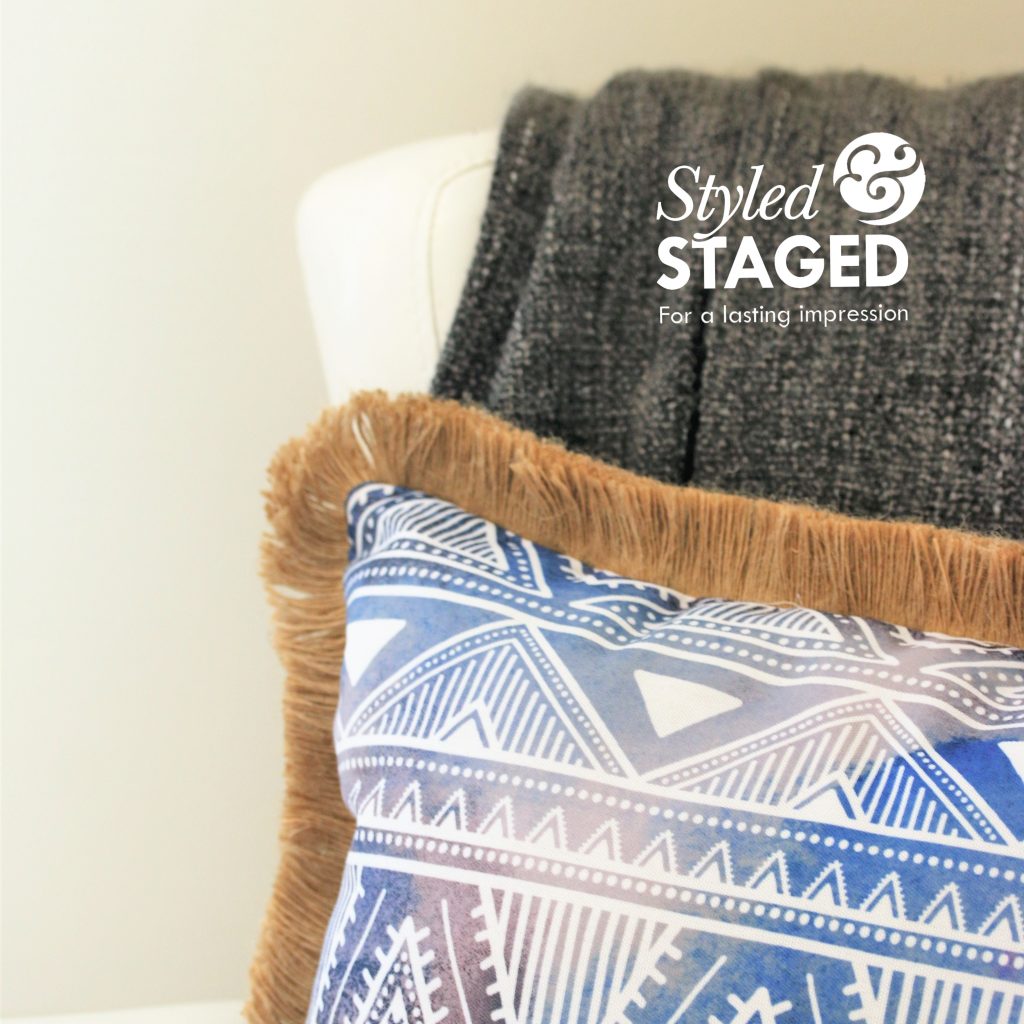 I was very excited to find these cushions that are made from 100% recycled plastic water bottles!  It's always good to think of ways to recycle and repurpose no matter what industry we're in. They were designed for exterior use but I felt that the natural fridge was the perfect touch to the room. I added a throw blanket to the white leather chair to make it feel cozier and more relaxed.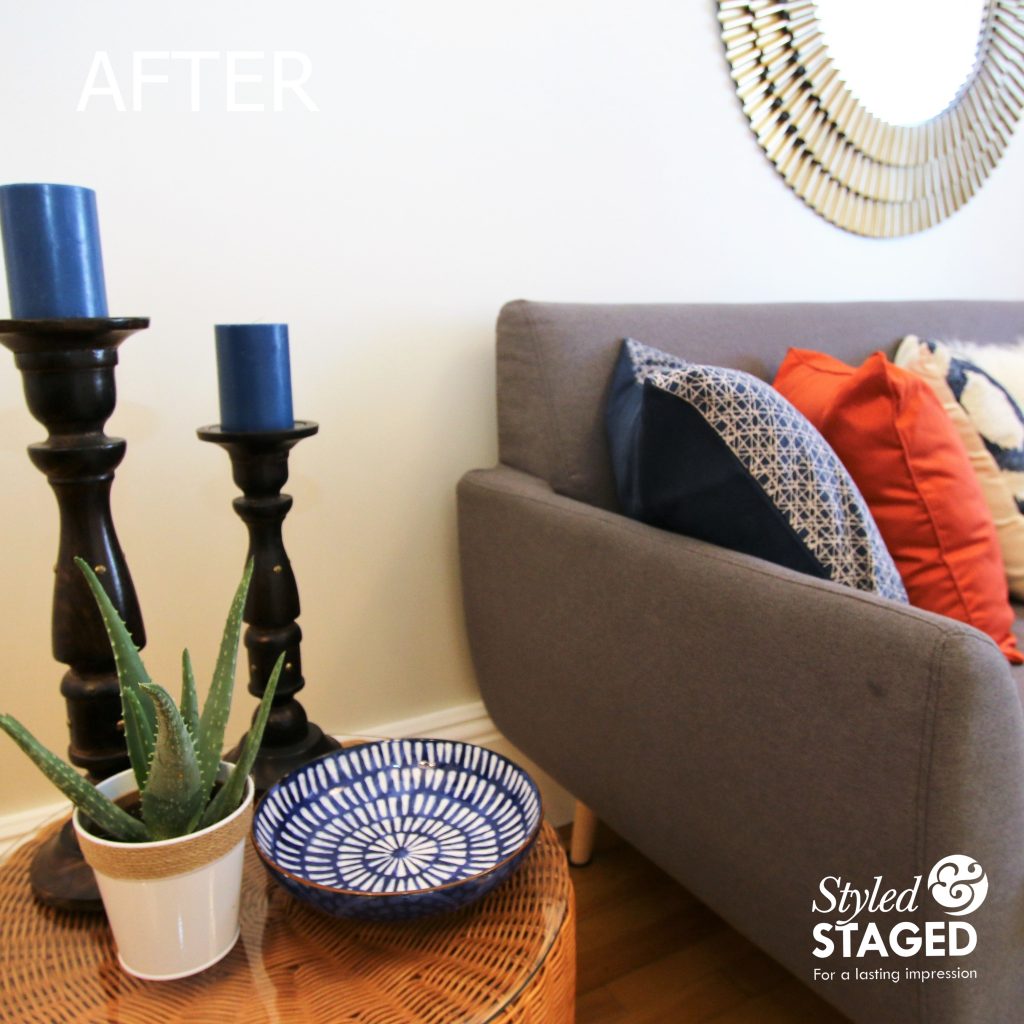 Adding pops of the indigo blue and white is easily done through accessories. You want to incorporate souvenirs from your travels in Bohemian décor.  Whenever possible, I use live plants in Staging's.  Succulents are perfect since they are low maintenance.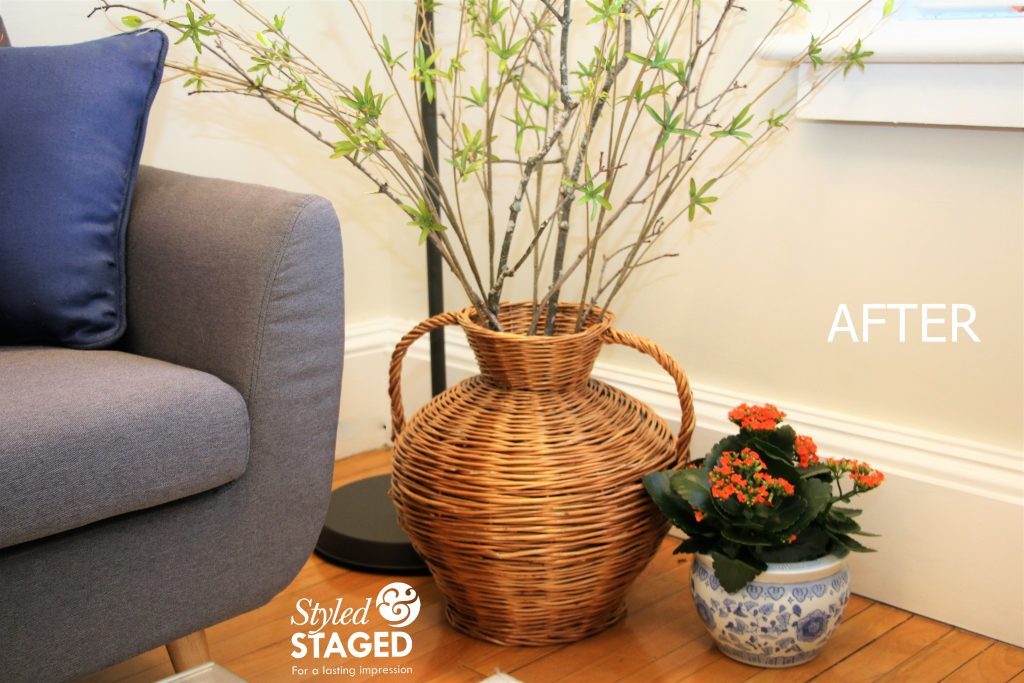 Since we are still in the middle of winter, it's so nice to have some fresh bright flowers.  The orange blooms just add a pop of colour.  Again, notice the different heights and layers of texture.  This casual way of decorating is very liberating since there is nothing 'perfect' about it.  I added some real branches to the faux foliage branches to make them look more natural. I'm that crazy lady who collects branches all summer and then stores them in my garage for winter projects like this.  I was thrilled to use my very old wicker basket in this setting. If I had more time, I might have done a white wash on the rattan.
Little Details Make a Big Difference: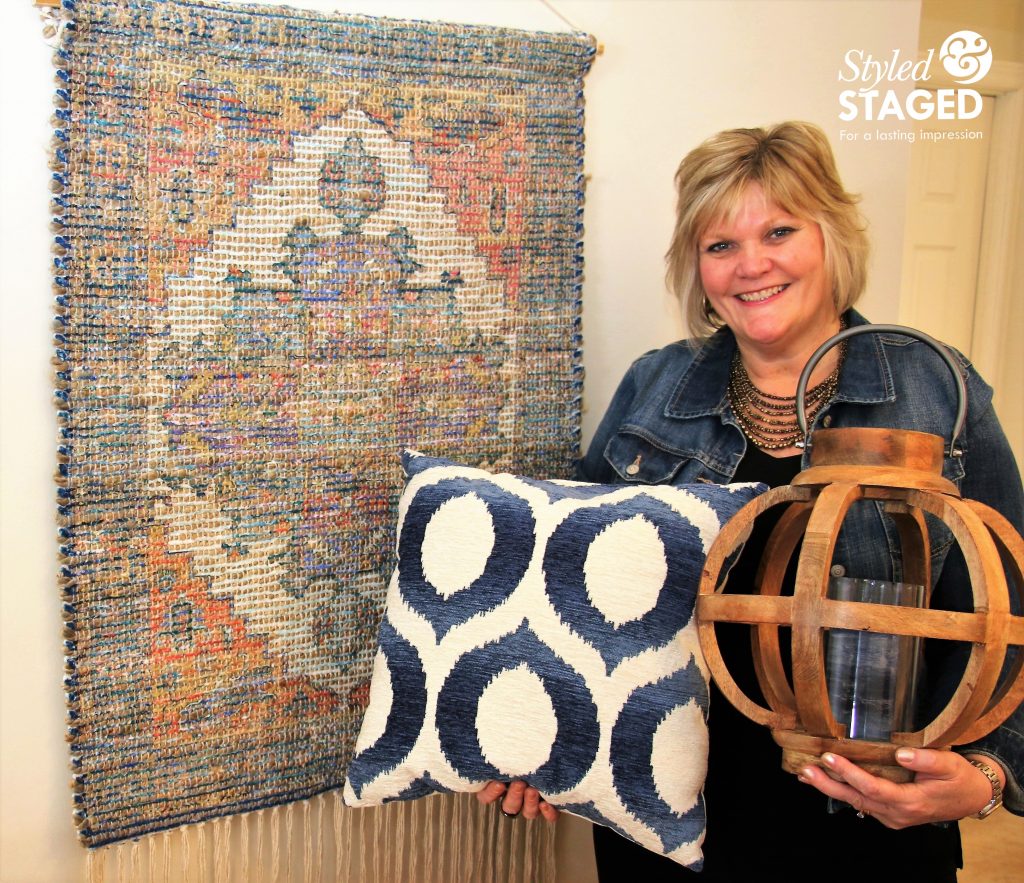 All the rich textures and colours definitely create an inviting and relaxed space. I think this lantern is my favourite element since it makes such a statement all on it's own.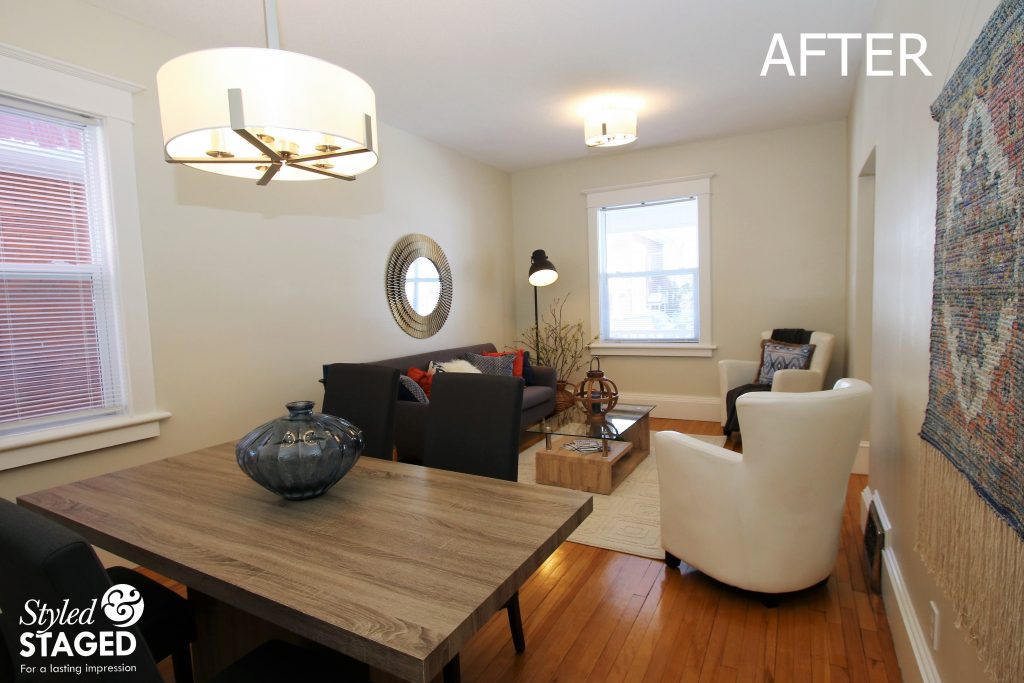 We brought in the oversized floor lamp that didn't have a fabric shade on it since there was already the dining room pendant and the living room semi-flush lights that had white shades.  I wanted the lamp to be completely different. The room needed something tall and dark in the far corner.  Round mirrors break up and soften the lines of a long room. When I Stage a room, I'm always thinking of where the photos are going to be taken from and the sightlines.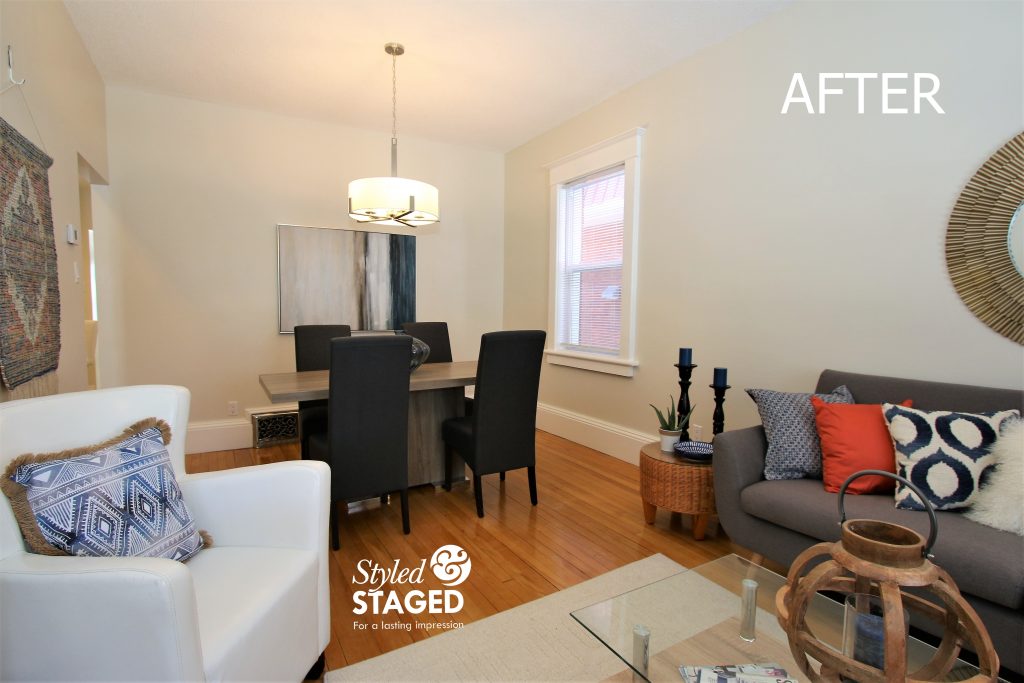 Although the dining room artwork is more sophisticated, the colours still blend so it all works together.  I didn't want to go overboard with the Bohemian décor since I still want to appeal to the masses for resale.  Sometimes, a 'hint' is all  your need.
Embrace the Uniqueness: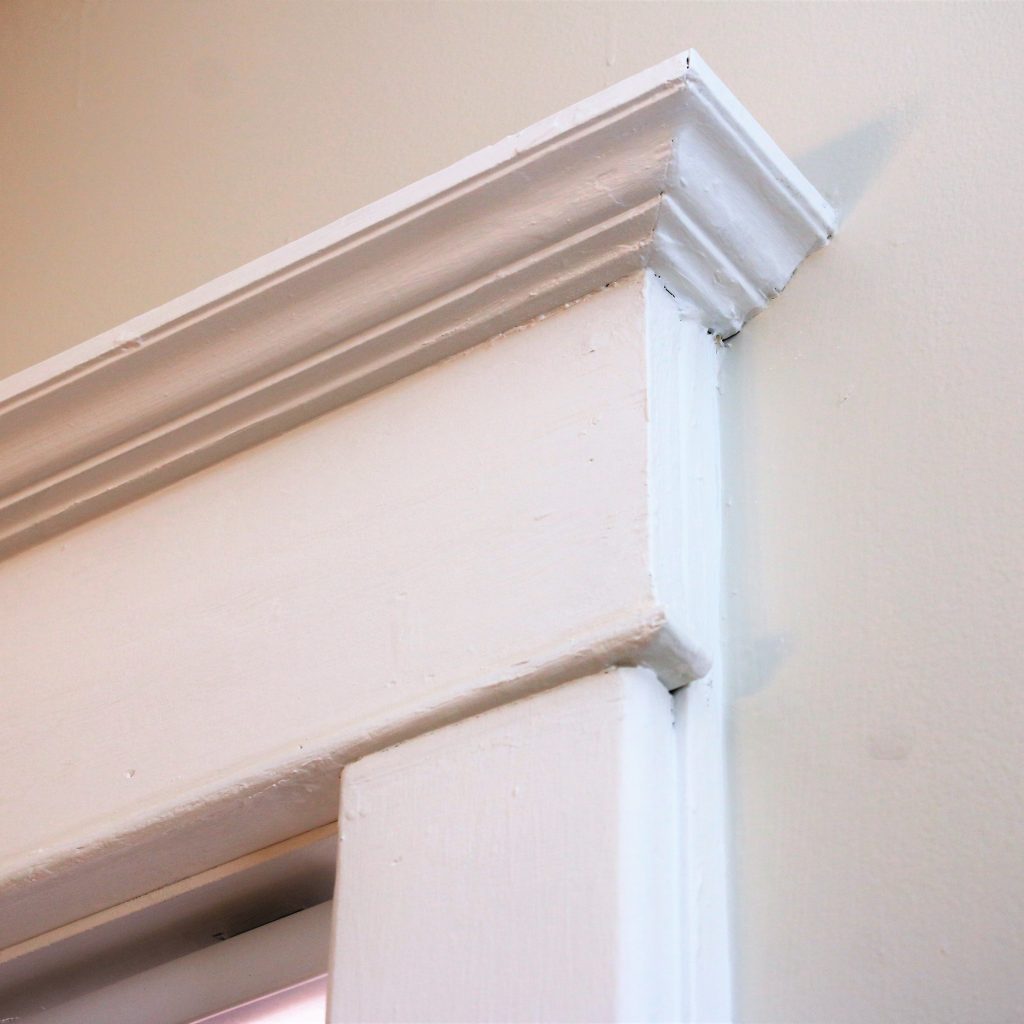 There was no way I was going to cover these beautiful window casings and trim with drapes.  I was happy that the clients had already hung blinds for privacy.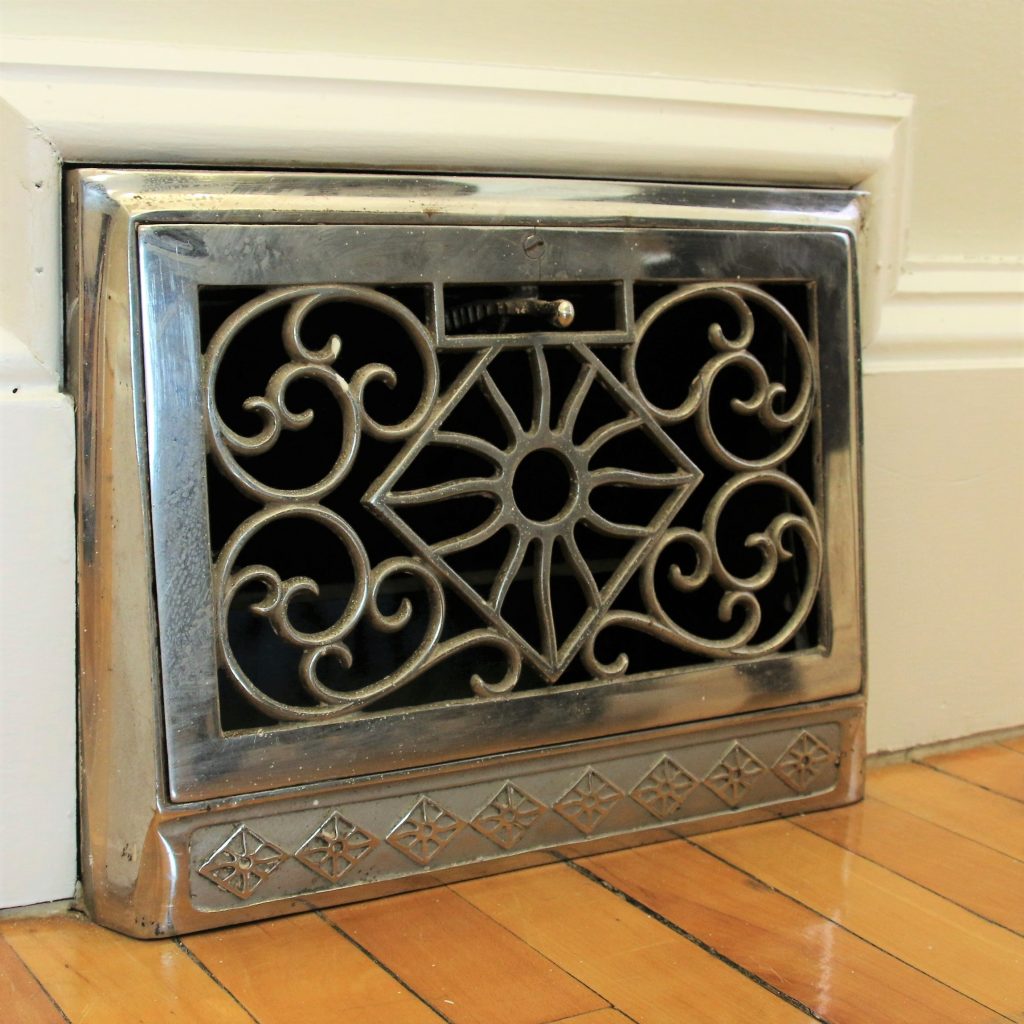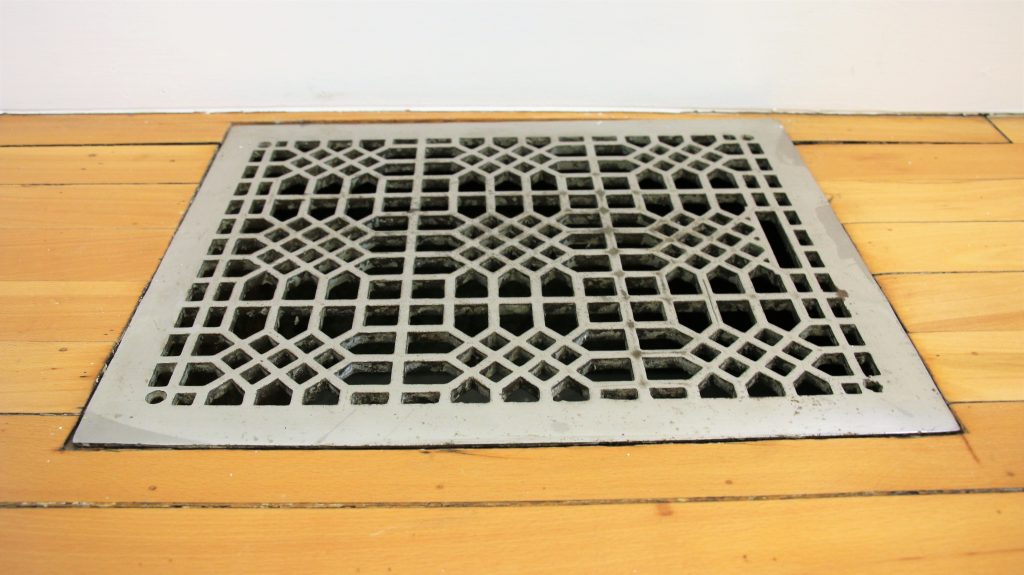 You certainly don't get these beautiful features in new homes.  They are truly a piece of art.  It's these unique features that tells the history and story of the house.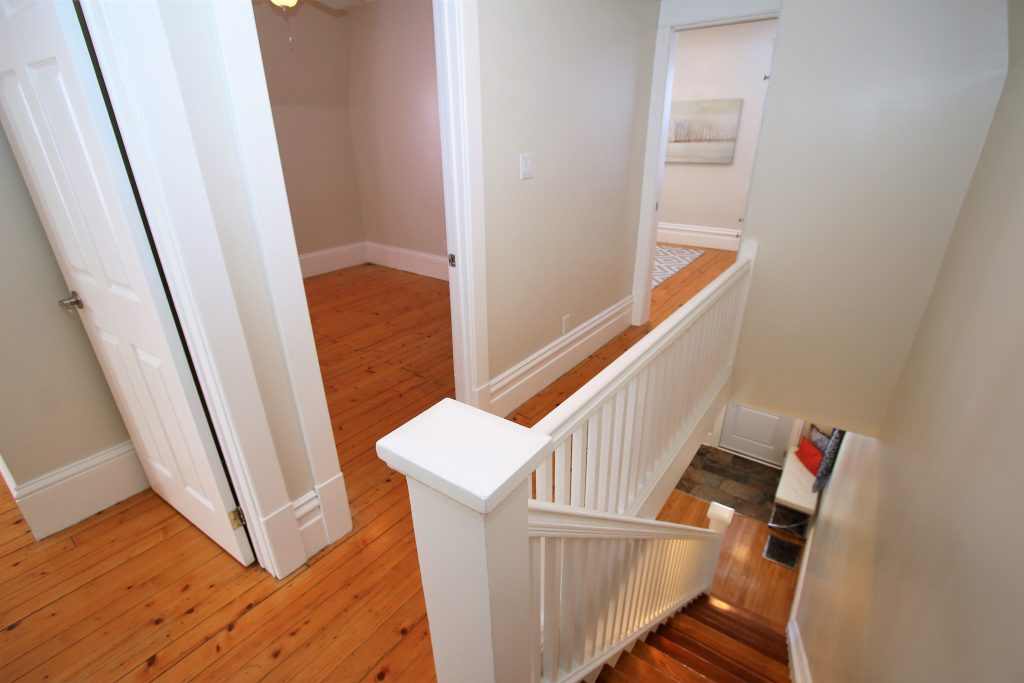 Stay tuned for future posts on the other rooms of the charming home.