Home Staging Tip
It can be challenging making a room with cold hard surfaces feel appealing and inviting to buyers.  Follow these  6 easy steps for a spa atmosphere that will be easy to sell.
En-suites should be decorated in the same colour palette as the master bedroom since they usually look onto each other and we want to continue the flow.
Soften the hard surfaces of the tub with lush towels either rolled in the corner, draped over the tub or placed in an over-sized basket.
Candles offer the best lighting for a relaxed atmosphere.  They also add some sensual aromas and a pop of colour.
Artwork gives bathers something interesting to look at while they are relaxing and it's an easy way to pull the colours together.
Greenery adds texture and life for rejuvenation.
Most importantly – it has to be CLEAN and CLUTTER FREE for true relaxation!!!
Four Examples That Sold Quickly
This tub was warmed up with a textured window blind for privacy.  The paint colour was chosen to enhance the tiles.  Buyers can add any of their own personal touches.
The fresh blue paint coordinates with the counter top and keeps the room feeling clean and spa-like.  Nothing feels fresher than white fluffy towels.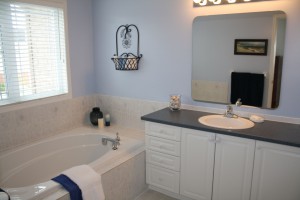 This colour scheme is carried through from the master bedroom.  The homeowner didn't want to paint this room so adding artwork was a quick and easy way to introduce other colours to tone down the strong hue. Bringing in some candles, plants and towels blends everything together.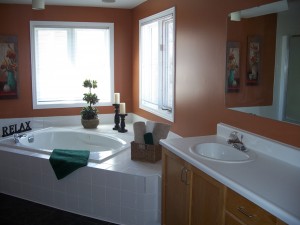 Having a neutral palette is ideal for buyers. The vanity was actually painted white.  It used to be oak with brass hardware which looked dated.  The wall colour now looks beautiful with the floor and so much better with all the fresh white.  The master bedroom had a lot of red so it was only natural to carry it into the en-suite.  Flowers and greenery add life to the space.