Home Staging Tip
Buyers/Realtors look at the MLS pictures to decide if they even want to bother going to see a house or not.  The quickest and easiest way to transform a room is by adding bold colourful artwork.  MLS pictures look better if the house has a nice flow of colour and style.  Follow my 5 Top Tips of Using Artwork in the Staging process.
5 Top Tips of Using Artwork to Stage a House
Never hang artwork too high.  The center of the picture should be 57" from the floor.  Artwork should be spaced no further than 8" apart and no closer than 3".  Pictures hung over couches should be about 6-10" above the top of the couch.
Make sure the artwork compliments the furniture.  It has to be the same scale.  There is nothing worse than a tiny little picture over a huge couch or a huge picture over a small table.
I always try to use canvas art since they look better since there is no glare from camera flashes.
Use artwork that is universal.  Anything that says too much about someone's culture, age religion or interests can deter buyers.  I personally don't like being greeted into a room with a cougar jumping out at me even if it is an original expensive collector's item!  It just doesn't say 'welcome, come in and visit'.  I've had to tell a lot of home owners to remove stuffed sword fishes, moose heads and even a bear skin carpet.  These items are fine for your own personal space since they all have 'stories and memories' attached to them but they just aren't suitable for staging.  Sorry guys!   Pack them up and enjoy them in your next home :-).
For Staging purposes it is better to use fewer larger pictures since they have more impact.  Remove the family photo galleries.  They are way too personal.  You want buyers to be looking at the house, not the homeowner's personal life story.
Styled & Staged has a huge inventory of rental artwork in all colours, styles and sizes.  Nothing changes a room quicker and easier than artwork!  Call 613-302-4020 today for your Staging needs.
Examples of How Artwork Can Help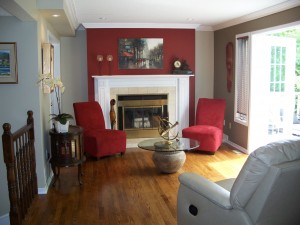 Artwork is a great way to tie all the colours in the room together.  This picture also adds depth to the room which makes it appear even larger.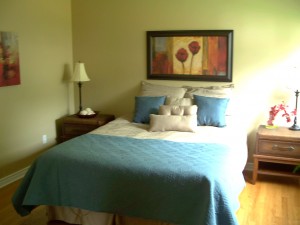 Using artwork as a headboard is a quick fix.  Do not use pictures with glass in case if falls.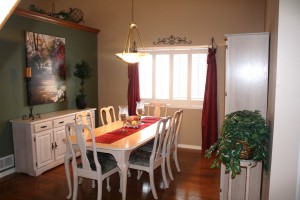 Artwork can add a lot drama and atmosphere into an intimate setting.  Make sure proportions are correct.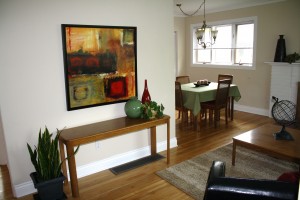 In small houses every inch counts so make interesting focal points with artwork.  Follow through with the colours from the artwork for a cohesive look.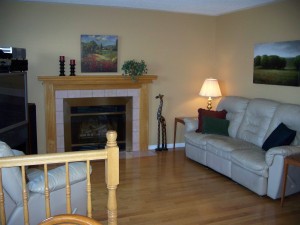 This room was completely beige until we added some 'Style' by bringing in artwork with some colour.  Notice that the artwork is canvas so we don't get the glare from the camera.