People often think that decorating for each season is a lot of work or it's too expensive. Let me show you how it can be done easily and on a budget.
Autumn is my favourite time of year since I always get a burst of energy from the vibrant colours!  Since it's such a short season I like to get an early start switching up my seasonal home décor. The dining room is also one of my favourite rooms in any house since it's where all the communication, laughter and sharing a meal takes place. I like to create an atmosphere that is inviting and relaxing so people want to stay and visit.
5 Simple Ways to Reuse What you Already Have:
I always buy solid neutral items that look completely different depending on what I put with them. When you're buying something ask yourself, "can I use this item in different seasons as well?".  When you look around your house and you see some of your favourite things ask yourself, "can I reuse this in a different way than I usually use it?".  If the answer is "yes", you're on the right track.
1. Same Container – Two Different Looks (Summer & Autumn):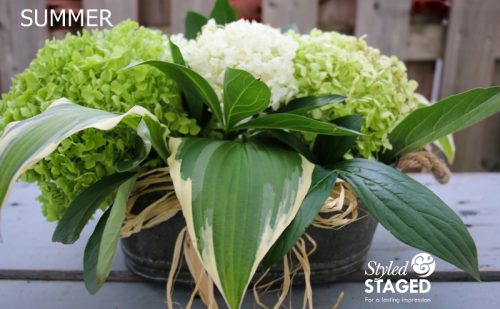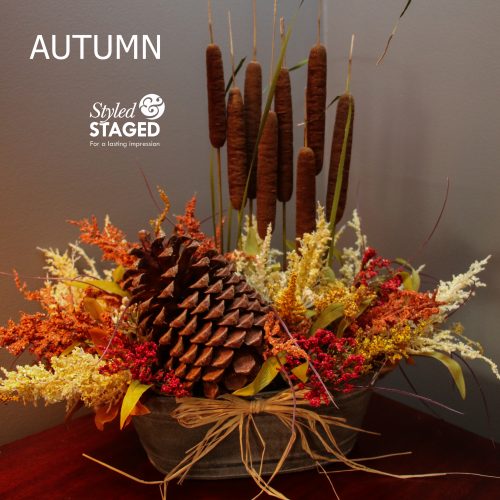 I certainly don't claim to be good at making floral arrangements but I do like the way the Bulrushes were off to one side and then balanced with the large pinecone on the other side.  This literally took me about 10 minutes to arrange.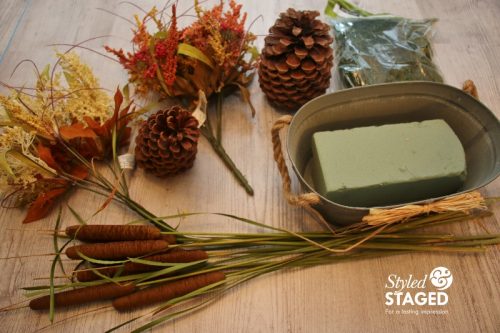 I cut the Bulrushes by the swamp and I already had the over-sized pinecone, so all I needed where a few sprigs of artificial flowers. I particularly like the ones that look more natural and life-like. I was lucky to get these at Michael's with their 50% off coupon.  Look for deals!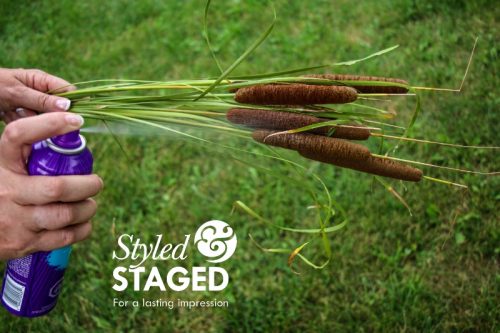 I am able to use this metal container all year long and it only cost me $10 at Walmart.
2. Same Lantern – Two Different Looks (Summer & Autumn):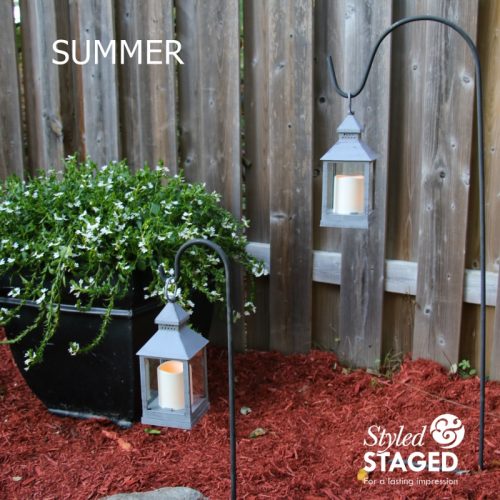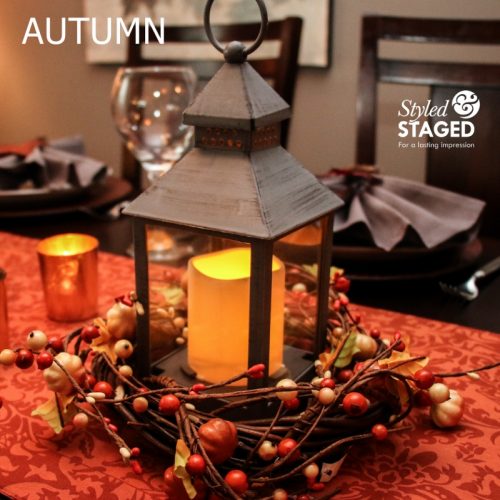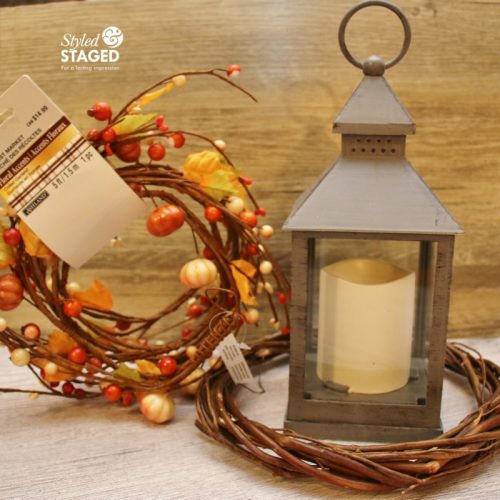 3. Find Your Source of Inspiration:
Before I start any DIY project, I always need a source of inspiration.  This accent cushion had all the Autumn colours that I wanted to work with since they complemented my home.  Choose colours that work in your home. I like this cushion since it can be used all winter long even though it has the Autumn colours. After Thanksgiving, I will emphasize the teal instead of the orange/brick.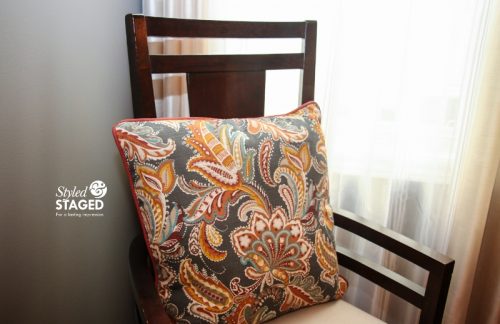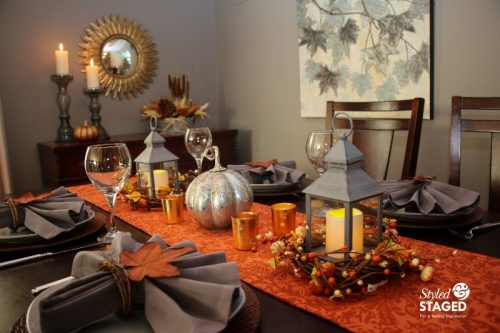 I was very happy with the way it all came together. Now I just have to figure out what to cook!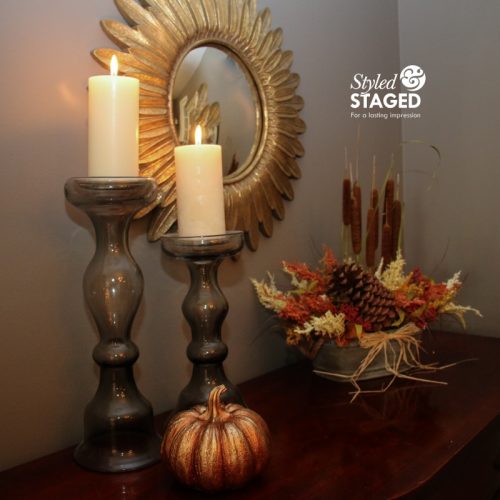 All the different textures (glass, metal, wood, and the flowers) work well together because they are all in the same colour palette.  I use these glass candle stick holders all year long in different ways and in different rooms.
4. Choose Neutral Solid Linens and Dishware: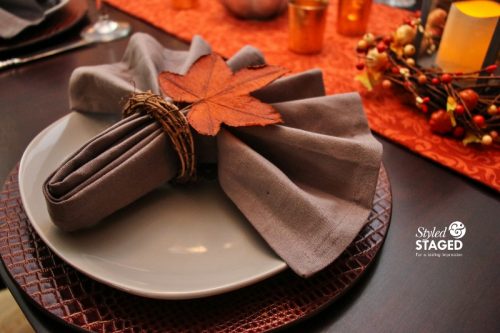 I just used little grapevine wreaths ($1 each) for my napkin rings to continue the rustic feel of the lanterns.  The wreaths can look completely different depending on what you add to them.  They also look pretty with red berries  and greenery at Christmas. Adding lots of layers, colours and textures is what makes the table feel exciting.  I used my everyday casual gray plates since I wanted then to blend in with the décor.  Using my white dishes would have been too bright for this setting.  The gray cloth napkins tie in with the gray lanterns and my gray walls. I liked how the gray cooled down the vibrant orange runner. Gray is a perfect neutral backdrop for any bold colour. The leather chargers also adds more texture.  I've had them for about 10 years and I never get tired of them. I use these napkins for just about any occasion since they are so versatile.  They can look rustic but they can also look very elegant with more formal accessories. Cloth napkins are actually a lot cheaper than paper napkins in the long run, and they are better for the environment.
5. Gold and Silver Accessories Can Always be Reused: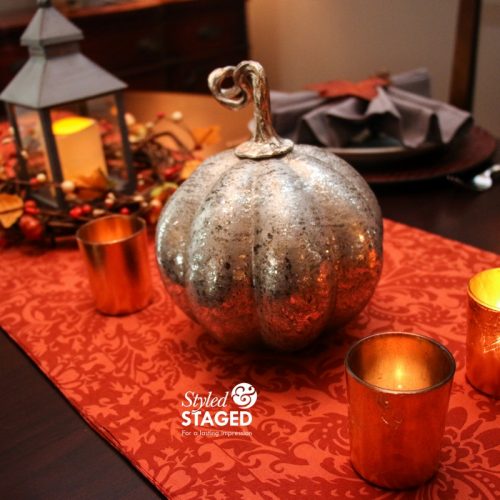 Mixing the metals makes a nice balance.  If I only had silver accessories on the table, it would have looked cold (which I didn't want for Autumn) but adding the little gold glass votive candle holders added another dimension and another warm glow of lighting. You can reuse and mix all your metals at any time. I did treat myself to this silver mercury glass pumpkin ($12) at HomeSense.  The pumpkin definitely makes it feel more like Thanksgiving, but when I remove it, the table will look good for the whole season. I use the gold votive candles for many different occasions and purposes.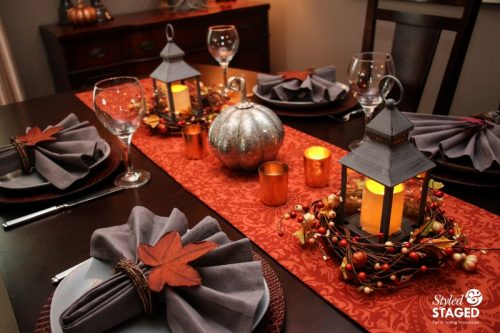 Take a good look around your house and see how you can reuse what you already have to create your own table setting.  I hope these 5 tips will help get you started.  Have fun and most importantly, be thankful!!!  Celebrate our wonderful seasons.