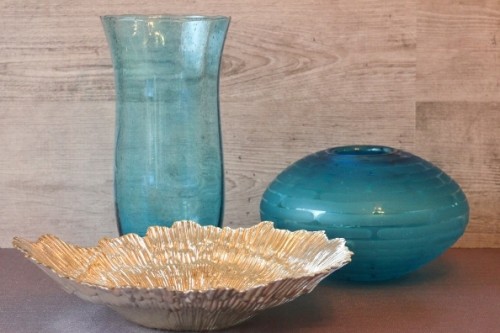 All you have to do is walk through a few of the popular home décor stores to see what some of the top trends are.  I always look at the colours in the current artwork and textiles. All the accessories are designed to complement them.
Right now I see blue/green/turquoise everywhere in every décor element.
Barn board and weathered wood furniture are all the rage.  It reminds me of the pickled pine finish back in the 80's.  Although its new and exciting now, I really don't think this trend will last more than 5-10 years max. similar to the pickled pine finish.  I used to sell pickled pine furniture way back then and everyone loved it was different but the trend didn't last long.  Hey, this is only my opinion 🙂
I do believe that the gray colour will continue to be a favourite neutral for many years.  It's nice to have the neutrals of gray, taupe and beige to choose from.  They all work so nicely together too. Gray can look a bit cold and blah if you don't add some of the warmer tones as well.  Almost everything goes with gray which is why it has such long lifespan.
Mixed metals are in.  No longer are we only silver, only gold, only copper, or only brass.  I love how all the medals are combined to make a room so much more interesting and it's not nearly as limiting.