Homeowners are often afraid that I'm going to ask them to do too much when I'm staging their house.  The bottom line is, we NEED the MLS photos to look great (especially in rural areas) or potential buyer's won't even bother to visit.  My job is to give the ideas and then it's up to the homeowners what they are willing to do.  These homeowners were completely on board and did everything that was possible in the very short time line that we had to work with.
This very large living room  was just missing four essential things to pull it all together. 1.  Area rug  2.  Lamps  3. Artwork  4. Accessories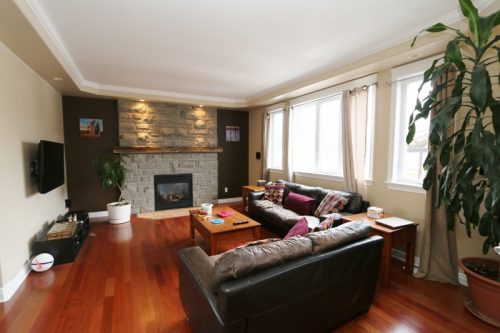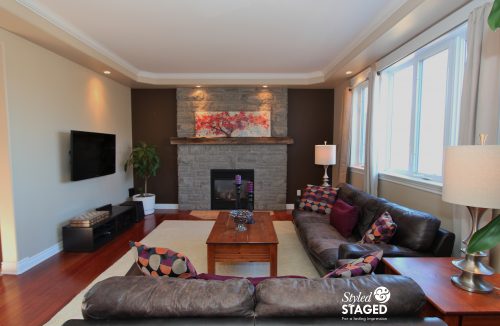 The large 8 X 10 ivory area rug really made this room feel inviting.  Notice it's the right size for the room.  The furniture legs are sitting on top of it.  It actually makes the room feel larger since the ivory expands the space. The ivory gives the room an instant lift as well.  They are able to take this rug to their next home so it's certainly not a waste.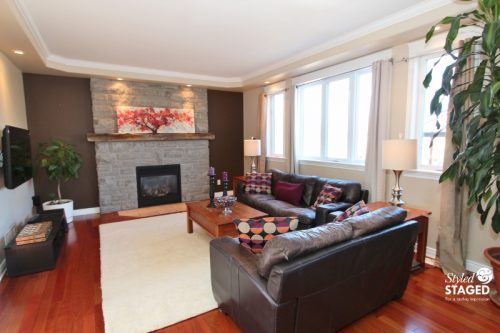 2.  The new large lamps are the perfect proportion and feel for the room.  Even though they had overhead lighting, table lamps are always important for creating a nice ambiance and they are also perfect for reading.  The height of the lamps also help break up the very long wall. The brushed nickel works really well with the gray stone on the fireplace. Again, they will be able to use these lamps in their next home.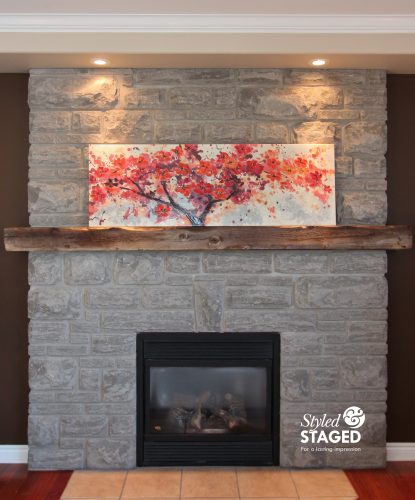 3.  The rented artwork has all the colours from their cushions and the wall colours.  The fireplace is the real focal point of this room and I felt that it needed something to draw attention to it, without taking away from it.   Previously, they had a little picture on either side but it left the fireplace looking bare. They were beautiful pieces but you couldn't really see them since they were so small for this large room.  We were able to use them elsewhere. The reclaimed wood mantle is stunning with it's different shades and texture. Since it's only a few inches deep, I couldn't put anything decorative on it but this lightweight canvas is perfect (scale and colour).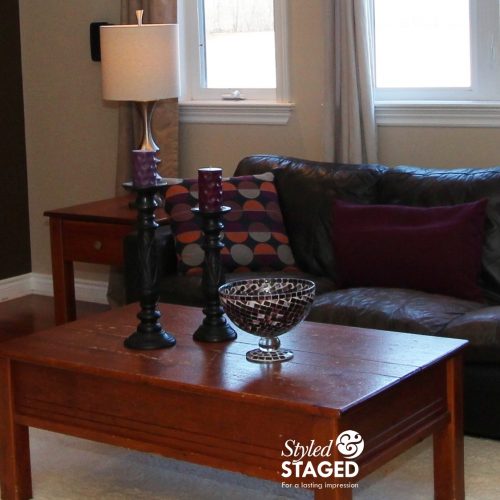 4. Adding accessories. It can be challenging sometimes working with homeowners accessories if they are very specific in colour choices.  To keep costs down, I always try to work with as much of the homeowners things as possible.  In this case, their orange/black and purple accent cushions was their colour pallet. We were able to bring in purple candles, tall candlestick holders and a purple mosaic pedestal bowl to work with their colours. I felt their was enough orange with the artwork.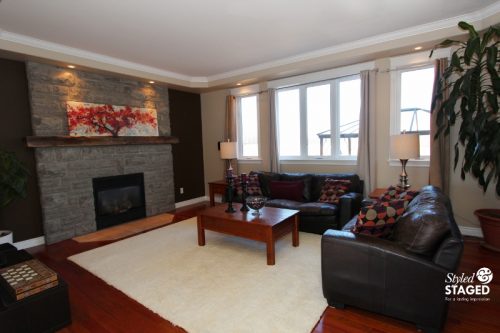 With these 4 simple elements this room looks perfect for buyers to see themselves living in this cozy space. They homeowners were thrilled with their new room and wished they had done it years ago.  Don't wait until you're moving….do a few little things to make your home more enjoyable now.