Home Staging Tip
4 Examples How Inexpensive Area Rugs Helped Sell These Four Houses in Less Than One Week!
It seems like everyone wants hardwood floors instead of carpets. I am always asked if the floors should be bare for Stagings. I think you want to expose your beautiful hard wood floors as much as possible. Buyers will want to see what is underneath to make sure there is no damage. I also think that area rugs can be very helpful in certain situations. View these 4 examples of when an area can benefit in the sale of a house for very little expense.
#1 SOLD FIRST WEEK – Kevin Coady, Royal LePage Team Realty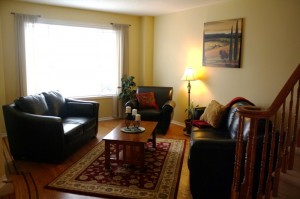 When placing furniture on angles, the area rug can ground and define the space so it doesn't look like the furniture is just 'floating'. The pattern on the rug gives the room some interest since everything else is solid in colour.
#2 SOLD FIRST WEEK – Monica Flores, Royal LePage Team Realty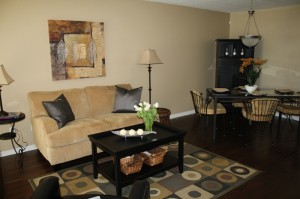 We want to create neutral rooms but not boring rooms! Adding this playful area rug allowed me to incorporate artwork and other accessories that flowed into the adjoining dining room. My job is as a Stager is to give buyers some inspiration.
#3 SOLD FIRST WEEK – Kim St-Denis, Royal LePage Team Realty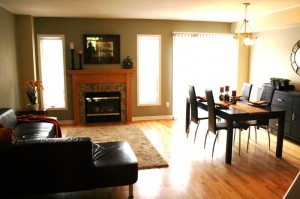 There was a lot of wood, glass, metal, tile and leather in this contemporary home. Placing the thick shag carpet gave the room just enough softness and texture to make it feel more inviting. The warm colour enhanced the tiles in the fireplace making it the showcase. Since they didn't have a coffee table the area rug also helped fill the void.
#4 SOLD FIRST WEEK – Monica Flores, Royal LePage Team Realty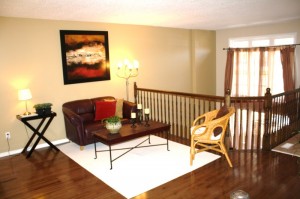 When a large open space isn't defined by walls an area rug can create a 'room' and an intimate space. The furniture also shows up better on the ivory carpet. Without the carpet this space just looked like a dark hole. The ivory also picks up the ivory in the artwork, lamps and candles for a cohesive look.
Call Now to Talk to Heather About Your Staging Needs 613-302-4020