Typically I stage a house before it goes on the market but I often get calls from Realtor's or homeowners asking for help if they aren't getting an offer and they aren't sure why.  Listening to the feedback from visitors is very helpful.  It's very hard to be objective about your own home.
It's always amazes me how so many buyers can NOT visualize a room in any other way than how it's shown but I guess that is why the Staging industry has become so popular.
This lovely large family home is a perfect example of that!!!!  The homeowners did a lot of entertaining so they turned their front living room into their dining room so they could fit more people.  Their adjoining 'dining' room was converted into an office and exercise room.  There is a huge family room just up a few stairs so these homeowners didn't need a formal living room.  When potential buyers came into the house they often commented "there is no living room" even if they were standing in it since they only saw it as a dining room.  Keep things simple for buyers.
1. DISPLAY ROOMS THE WAY THEY WERE INTENDED FOR: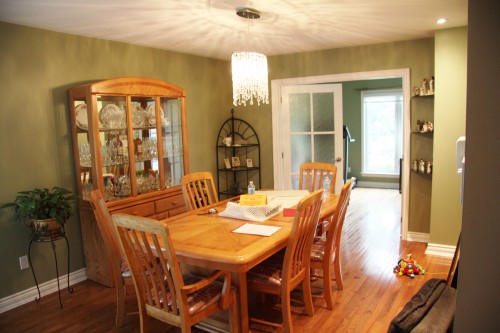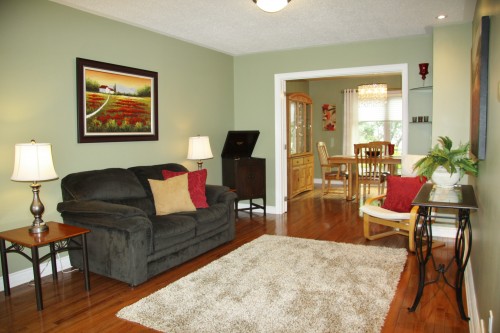 When Styled & Staged was called in for help I knew immediately that I wanted to bring down one of the sofas from the family room to show buyers the potential of the room.  They had enough furniture to furnish all the rooms so we brought in all the different tables, chairs, lamps etc to fill the space and to keep costs down.  They needed very little inventory rentals which is great.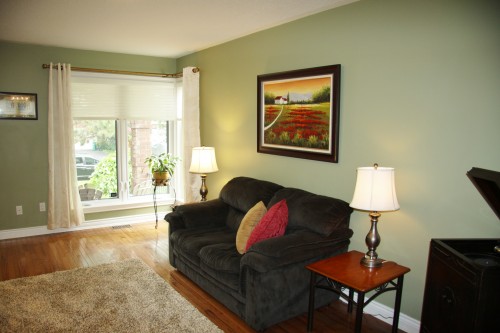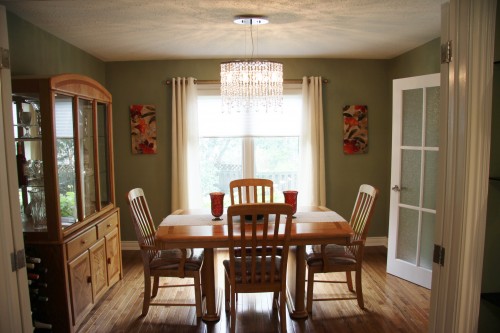 3. BUYERS WANT A HOUSE THAT IS NEUTRAL THAT THEY CAN MOVE INTO WITHOUT HAVING TO DO MUCH WORK!
When choosing a paint colour for resale in kitchens or bathrooms, use the tile, counters and backsplash as your guide since those are elements that are staying with the house.  Buyers can always add their own flair with colourful accessories.  These homeowner's worked so hard and painted the kitchen the next day 🙂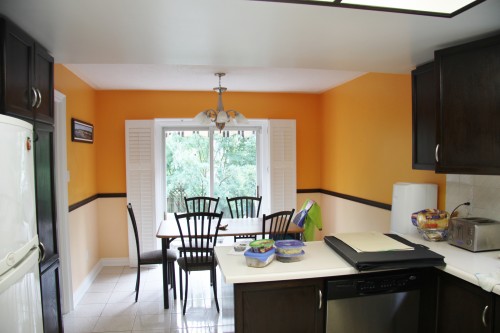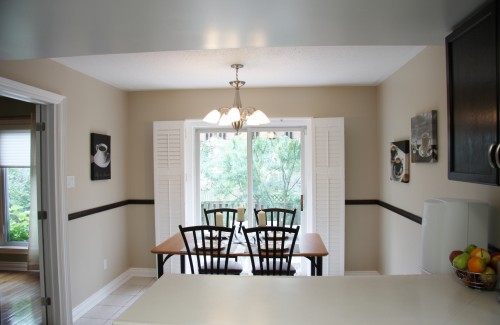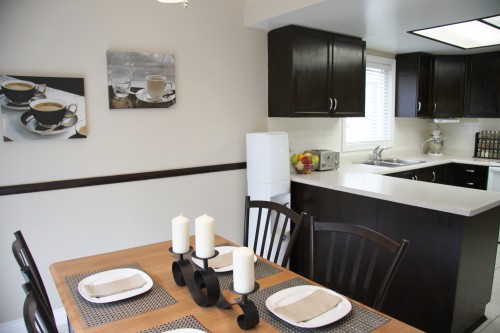 3. TURN AN OBSTACLE INTO A POSITVE FEATURE!
I love sleigh beds but unfortunately they take up so many extra inches at the head and the foot of the bed.  I felt that the bed was cramped between the window and the built-in shelves.  There was also no way a king size bed could fit there either so I wanted to reposition the layout.  Again, the homeowners were very accommodating and removed the head/foot board and bought a set of rails to rest their bed on.  Once the bed was turned and the shelves became a beautiful focal point I knew it would work. They were even able to fit their night tables under the shelves so they didn't lose any functionality or storage.  Styled and Staged just brought in a few rental accessories to pull the room together.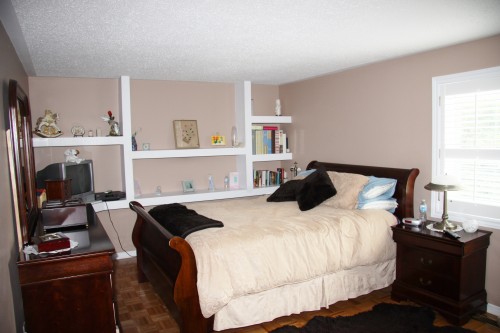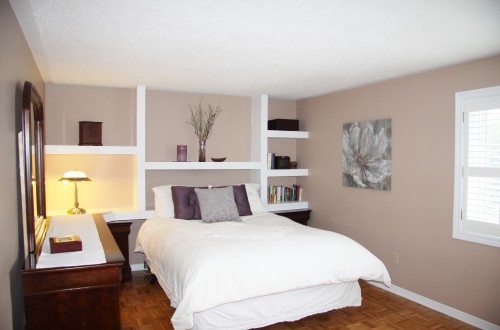 I'm sure with these changes this house will sell quickly since it has so much to offer.  It's move-in ready!