Setting the table for the holidays is so much fun since you can be creative and really show your personality.
My biggest piece of advice is to buy Charger plates.  You can buy them for $2 and up (depending on how fancy they are). When you have large gatherings there isn't enough space for placemats. Chargers protect your wood table or your fancy table clothes.  Adding the layers also make it look prettier :).  Charger plates come in so many different colours and styles.  I buy the basic gold and silver ones which I can use all year long so it's a good investment.  I have a big variety of colours since I also use them as props in my Home Staging business.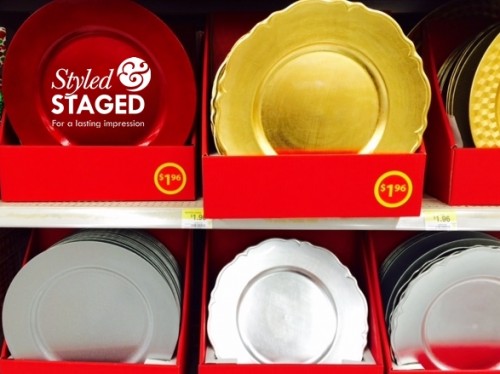 These chargers were found at Walmart for under $2 each.  They are larger than regular plates so they catch any spills from the dinner plate.
Here are 14 different place settings that were created using everyday plates.  Which combination is your favourite?  I can't decide.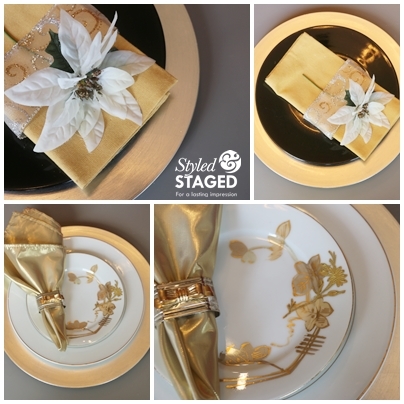 Gold, silver, white and black instantly scream glamour, formal and elegance. Sparkly ribbon replaced the need for a napkin ring and silk poinsettias let you know if was for Christmas even though there was no red or green incorporated. You can always add your best china to this colour combination and it looks extra special. Notice how the gray tablecloth prevented it from looking cold.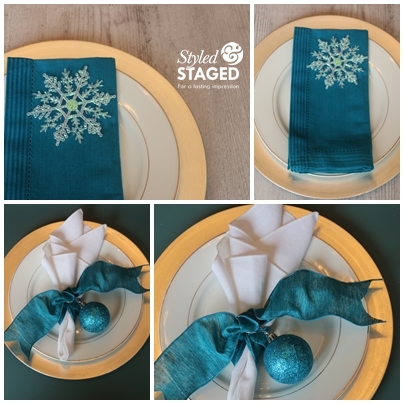 Accessorize with your everyday colour.  No one says that Christmas colours are limited to red and green.  These everyday teal cloth napkins look festive with the snowflake resting on it.  The gold chargers also make it more formal.  Adding ribbon and an ornament is an inexpensive way to create the 'wow' factor. I prefer the wired ribbon to help create and hold a shape. Notice how the snowflake with the barn board are a nice casual chic look and the sparkly ornament and dark teal table cloth look rich and classy.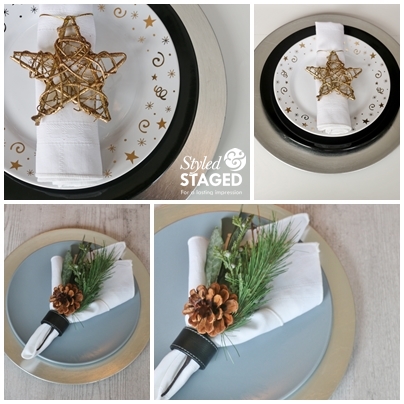 The star ornament and plates not only made me think of Christmas but I thought they would also look great for a New Years Ever party.  Always try to get as much use out of your décor as possible.  You could add any colour napkin to this combo and it would look different every time. Notice how I used silver chargers but gold stars.  You CAN mix gold and silver. I love incorporating natural elements like greenery or pinecones since they are free from my backyard.  I used my black leather everyday napkin rings but they still worked for the holidays.  The light blue plates with the white napkins looked like the sky and snow.
If you still want your table to look elegant and festive but in the more traditional Christmas red and green, add some pretty napkin rings.  You can make them yourself or buy them in just about any store that sells table linens.  Also notice that the table cloth colour really has an impact as well as the plate colour. Here I used cheap pearl bracelets but you can also use long strands of pearl garland that are for the tree.  Just cut as much as you need.  These berry rings were actually meant to sit on candle holders.  I just want you to look around and see what your already have or find ways to repurpose things. Take the challenge 🙂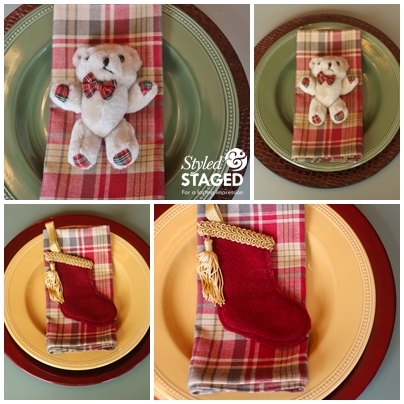 For the young at heart its easy to add little adornments to capture their spirit. These cute little teddy bears were bought at a dollar store.  I sewed the stockings out of felt and added ribbon and a tassel.  I love the stockings since you can also put tiny little gifts or candies in them. Nothing says country chic like a plaid napkin.  Look how different it looks just with a different plate colour behind it.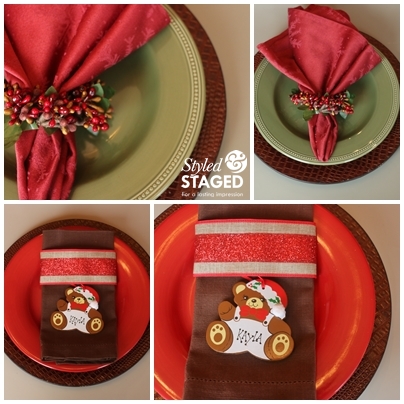 The brown leather chargers give a more rustic and casual feel.  Choose the chargers that fit your theme or décor.  The berry napkin rings are great since they tie in all the colours of the napkins, plates, charger and table cloth. Since napkin rings can get very pricy if you need a lot of them, I often use ribbon as a replacement.  I love how I found monogramed tree ornaments. They also make great name tag settings – again they can be reused many times or make a nice 'take-home' gift for your guest.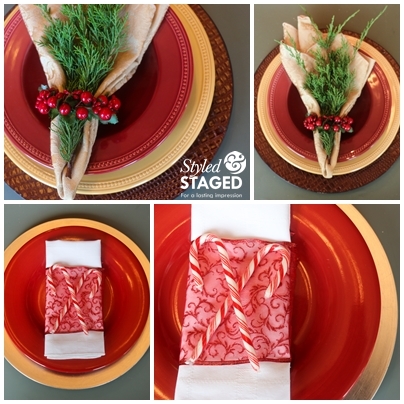 Sometimes the simplest settings can be the most effective – especially if you have lots of them on the table. It's nice to start with a warm rich colour table cloth as your backdrop so everything stands out. Simple greenery and berries look great on these casual everyday plates.  Adding soup bowls in a complementary colour is practical and also adds depth and interest. This is ideal for a nice brunch/lunch or a more casual dinner.  Who doesn't love candy canes? Why not add them to your place setting.  They look great on white napkins and they are inexpensive.  I love how the red lace ribbon is a pretty backdrop for them.  It combines the elegance and the fun.
I hope these table settings have inspired you to make your dinner table extra special this holiday season. Make sure you take the time to enjoy and cherish each and everyone around your table.  That is what is truly important!!!
Hug Your Home…