10 Steps to Decorate A Christmas Fireplace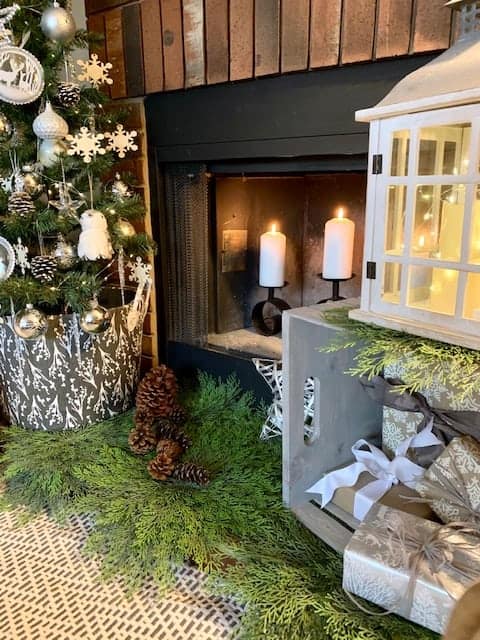 I'm going to start off by telling you that I HATE my fireplace. In a few months this entire room will be renovated with new flooring, new paint colours and a new treatment on brick fireplace but in the meantime, I have to work with it!
I just wanted to let you know that since we don't all love every aspect of our home, but we can always still find ways to make it look it's best. It can be very frustrating looking at all the stunning homes on Instagram and Pinterest etc. and feel deflated. I want to share a few tricks that you might be able to apply to your home.
Step 1: Disguising What I Don't Like
I started out with a little $19.99 Charlie Brown Christmas Tree from IKEA.
My expectations weren't great when it comes in a bag with a twist tie but it was the perfect size to fill the tight corner of the fireplace hearth. We have a huge tree in the living room, but we spend so much time in the family room, I wanted to have lights here as well.
This tree didn't come pre-lit so I added two strings of battery operated lights from Costco.
Step 2:
Since I didn't like the little plastic 3-prong tree base, I placed in my laundry basket.
Yes, I did say laundry basket. It was the perfect size and it gave some weight to the tree. It also gave me colour inspiration.
I thought that the branch pattern on the basket looked like snow. Baskets are a huge trend right now so I'm sure you'd be able to find one that fits your tree base.
Step 3:
Because it's a small room, keeping the accessories in the neutral tones helps it from feeling overpowered.
I stayed with gray, white, wood, silver and greenery for a casual feel. I wanted to blend the décor with the brick fireplace so I kept a nature inspired theme. Most of these ornaments were from Canadian Tire and even the Dollar Store. I just love the fuzzy owls and penguins.
I seem to have a deer theme going on in my house this Christmas. I use white lights on all the trees. It just makes a nice flow when you walk from room to room.
Step 4:
The things that makes this vignette work so well are all the different heights and same colour scheme. When I just placed the white lantern on the hearth, you didn't see it from certain seats in the room and it looked a bit lost.
The wood crate was originally an unfinished pine but it didn't have enough character. I decided to give it a white wash treatment but instead of white, I chose a gray colour.
I simply mixed a cup of water with a little bit of white and black craft paint. Mix it up well and always try it on another piece of wood. I used the free wood paint stir sticks for my testers.
It's always easier to go darker than it is to go lighter. I ended up giving the crate 3 coats to get the right shade of gray. I wanted to still see the wood grain through the paint and have it complement the metal roof of the lantern.
After I brushed on the water with the paint mixed in, I wiped it off with a rag.
Always put plastic under a project to protect your surface. Having a crate like this not only gave height to the lantern, but it also gave me a space inside to display wrapped gifts (empty boxes) for more texture and interest.
After the holidays, I already have so many more uses for this crate so it's definitely a good $12 investment.
Step 5:
The ceramic deer head was purchased at HomeSense. I liked the fact that it was matte white with the silver antlers. No animals were harmed in the making!
When I hung it up by itself, it just looked lost and too small. The easiest solution was to add the boxwood wreath from IKEA around it's neck.
It immediately gave it more presence. I will be able to reuse the boxwood wreath all year in different projects.
Step 6:
People always ask me how to hang things on brick. I bought these little clips at Lee Valley Tools years ago and they are wonderful for indoors or on your exterior brick.
They just clip on and don't ruin the brick when you take them off.
Step 7:
Never rush a project. I am always tweaking a vignette until I'm happy with it.
Stand back take a look at what you've done and then see how you can improve on it. Enjoy the process – don't rush it. Sometimes it can even take a few days. A good tip is to take a photo of what you've done since you will see it in a different perspective.
Step 8:
I thought I was done but it just didn't look finished to me. I realized it was the ugly brown hearth that was throwing me off.
Covering the brown hearth with evergreen and pine cones finished off the natural look that I was going for. Notice how I even added a little gray and white rug for more texture.
Step 9:
Almost Done
Step 10:
It's the little details that make the difference.
I always try to incorporate my everyday items in my holiday décor to keep costs down and from making it look too 'staged'. My hammered tray and wood bowl with my hand painted rocks are always on my ottoman.
Just adding a few sentimental snow babies from my mother and a bit more greenery made my everyday tray look more festive. I also added a set of twinkle lights in the white wooden lantern since the battery operated candles had too much of a yellow glow compared to the tree lights and the candles in the fireplace.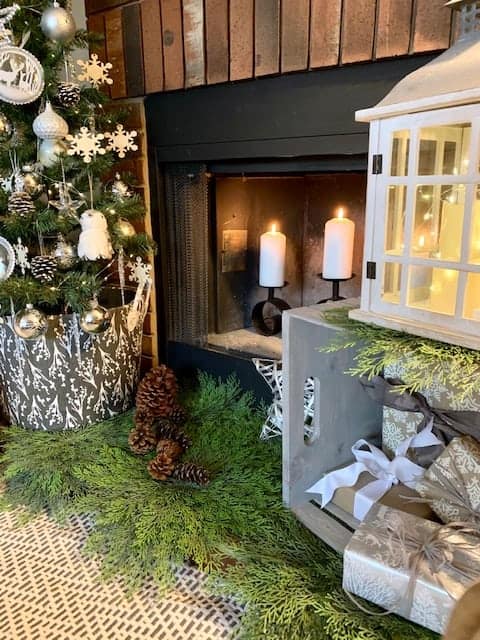 I hope you find these tips helpful. Happy Holidays.